Highlights
More than 110 best practices about Research and Development.
All R&D is included, from fundamental research or understanding of customer needs to market launch (or in your plants for process development), as well as the management of the existing product portfolio.
Two uses are possible :
learn R&D product development management best practices
evaluate the R&D practices in relation to the best thanks to the online questionnaire functionality
The evaluation embeds "Lean Development" practices.
Scientific Research and Development best practice model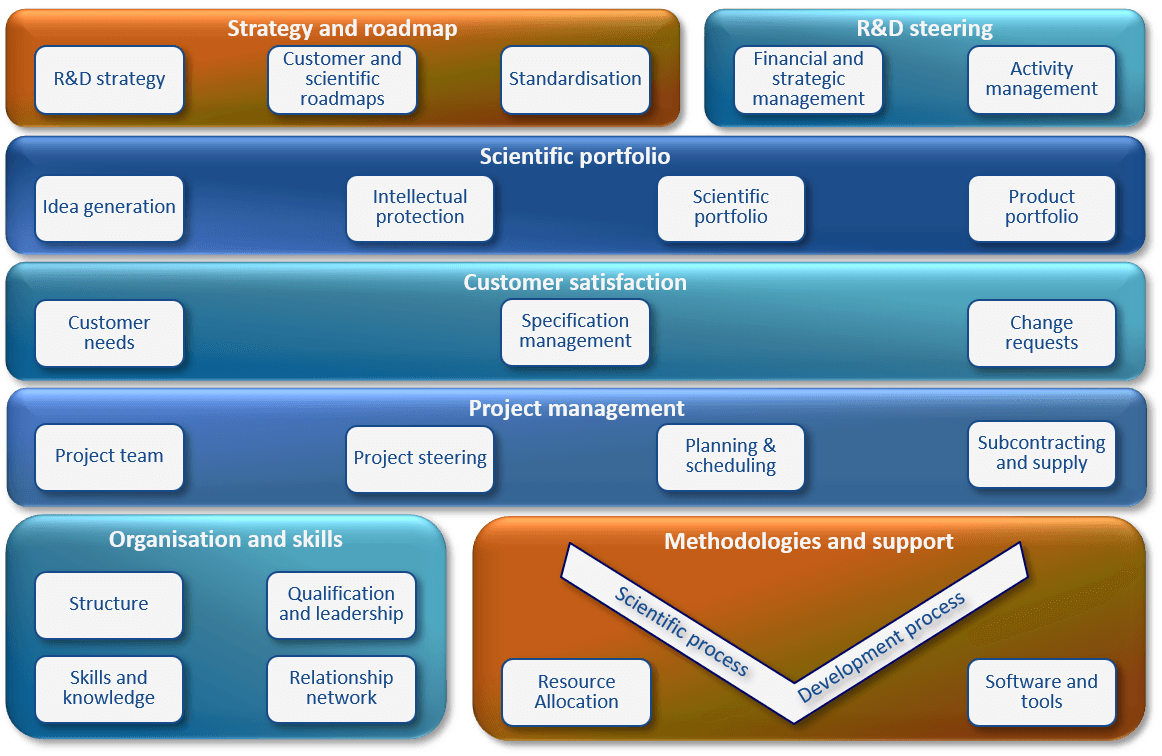 Brief description
The model includes 110 best practices structured in 7 categories and 23 areas as summarised below.

Strategy and roadmap
R&D strategy: what does the strategy contain and how is it defined? What are the strategic objectives and how to achieve them? Is "open innovation" used or considered?
Customer and scientific roadmaps: are these two roadmaps defined and how? What are the exchanges between R&D and sales or marketing departments? Are the roadmaps consistent with each other?
Standardisation: are scientific methods standardised (characterisation, formulation, solution preparation, etc.)
R&D steering
Financial and strategic management: how are costs, subsidies or taxes monitored? Are the development costs per product tracked? Is the volume of activity by'strategic category' monitored?
Activity management: how are non-financial indicators monitored and do they have clearly defined objectives?
Scientific portfolio
Idea generation: how are internal ideas collected and managed until they become Research or Development projects?
Intellectual protection: what is the intellectual protection policy and how are patents filed? Is there any monitoring of competing patents in your market?
Scientific portfolio: how are all ideas, preliminary projects, feasibility studies, etc. managed and prioritized? Are there any performance indicators? What is the coordination with individual project reviews?
Product portfolio: Are existing products monitored over their life cycle and how does this affect the upstream scientific portfolio?
Customer satisfaction
Customer needs: how are customer needs identified, tested and characterized?
Specification management: how are these requirements described in functional or performance terms and prioritized? How can we ensure that they are respected throughout the development cycle?
Change requests: how are possible change requests from the customer (needs) or from within (changes in wording, processes, etc.) handled?
Project managemen
t
Team: Is there a formal team with clear roles and responsibilities? To whom do its members report during development and which physical location?
Project steering: What are the methodologies for managing Research and Development projects and how are they applied (indicators, monitoring meetings, risk reduction, etc.)?
Planning & scheduling: What are the planning formats and what is their real use? Are resource requirements being monitored? Is there a progress indicator?
Subcontracting and supply: how are suppliers or contractors managed and by whom? How do purchasing and R&D coordinate?
Organisation and skills
Structure: how is R&D organised geographically (in case of several locations) and locally, and are the associated responsibilities clear at each level? Are resources performing similar tasks grouped together? Is there an end-to-end responsibility for the development cycle?
Qualification and Leadership: Are the technical, managerial and leadership skills at the right level in a good social climate?
Skills and knowledge: Skills management and development, knowledge management and sharing
Relationship network: How are external relations (laboratories, suppliers, etc.) managed and monitored within the framework of a defined policy?
Methodologies and support
Scientific process: are the methodologies and procedures for scientific work (characterization, formulation, etc.) defined and applied? Are there any peer reviews?
Development process: how are the different stages of research or development defined and managed?
Resource allocation: how is resource allocation managed? Do consolidated visions of current needs and use exist?
Software and tools : is the R&D supported with the right tools and systems?
Example of usage for evaluation:
Perform an in-depth evaluation of your Scientific Research and Development in detail:
identify the levers to provide your customers with more efficient products, with a less costly and faster Research and Development cycle.
compare your performance with the world's best R&D practices
define a progress plan with actionable levers using our Wevalgo model of organizational levers