Highlights
44 questions structure across 4 categories and 16 areas to quickly assess the performance of your Research and development management. They enable to identify strengths and improvement opportunities based on high level best practices but capturing perception across the organisation.
Areas of diagnosis carefully designed to shine a light on the lifecycle of product innovation and development, from idea collection or customer needs understanding to market delivery.
Both normative questions with specific criteria and questions about personal opinions to get a balance between objective evluation and subjective perception.
Wevalgo scoping framework for Research, Development or Engineering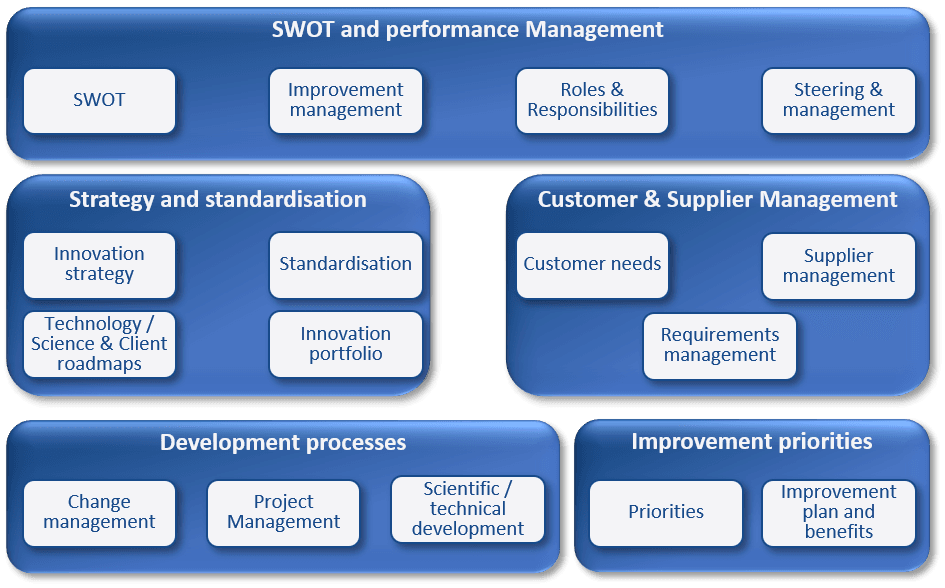 Questionnaire overview:
SWOT and performance management
SWOT: general open questions on the strenghts, weaknesses and challenges of the R&D
Improvement management: questions on the past and current action plans to improve overall R&D
Roles and responsibilities: questions on the clarity of the roles and responsibilities at different levels of the organisation
Steering and management: questions on how the R&D is managed through KPIs, management meetings, action plans...
Strategy and standardisation
Innovation strategy: questions on how the R&D strategy is defined, communicated and understood
Standardisation: questions on how the components or parts are standardised (for discrete product R&D) or on how the methodologies are standardised (for scientific R&D on 'process' products)
Technology/science and customer roadmap: questions on the identification of customer anticipated needs roadmap and on either the future technologies available (discrete product) or scientific breakthroughs
Innovation porfolio: questions on how the Research or Development projects (or ideas, feasibility studies) portfoilo are managed and prioritised
Development process
Change management: questions on the management of the internal or external change requests
Project management: questions on the methods used to manage product development projects
Technical / scientific development: questions on the usage and sharing of documented methods in each technical or science area;
Customer and supplier management
Customer needs: questions on how the customer needs are identified and managed through the development cycle
Supplier management: questions on the supplier and sub-contractor management from requirements to delivery
Requirements management: how the requirements, either coming from the customer or given to suppliers are managed


Improvement priorities (conclusion)
Priorities : what are the priorities in terms of improvement across various drivers
Improvement plan and benefits: action plan, key benefits and potential barriers