Highlights
More than 120 best practices about R&D product development.
The entire innovation life cycle is covered, from the initial generation of the idea or collection of customer needs to the market introduction, then the analysis and rationalisation of the product portfolio.
Two uses are possible:
learn R&D product development management best practices
evaluate the R&D practices in relation to the best thanks to the online questionnaire functionality
The evaluation embeds "Lean Development" practices

Wevalgo business model for Research, Development or Engineering in discrete product industries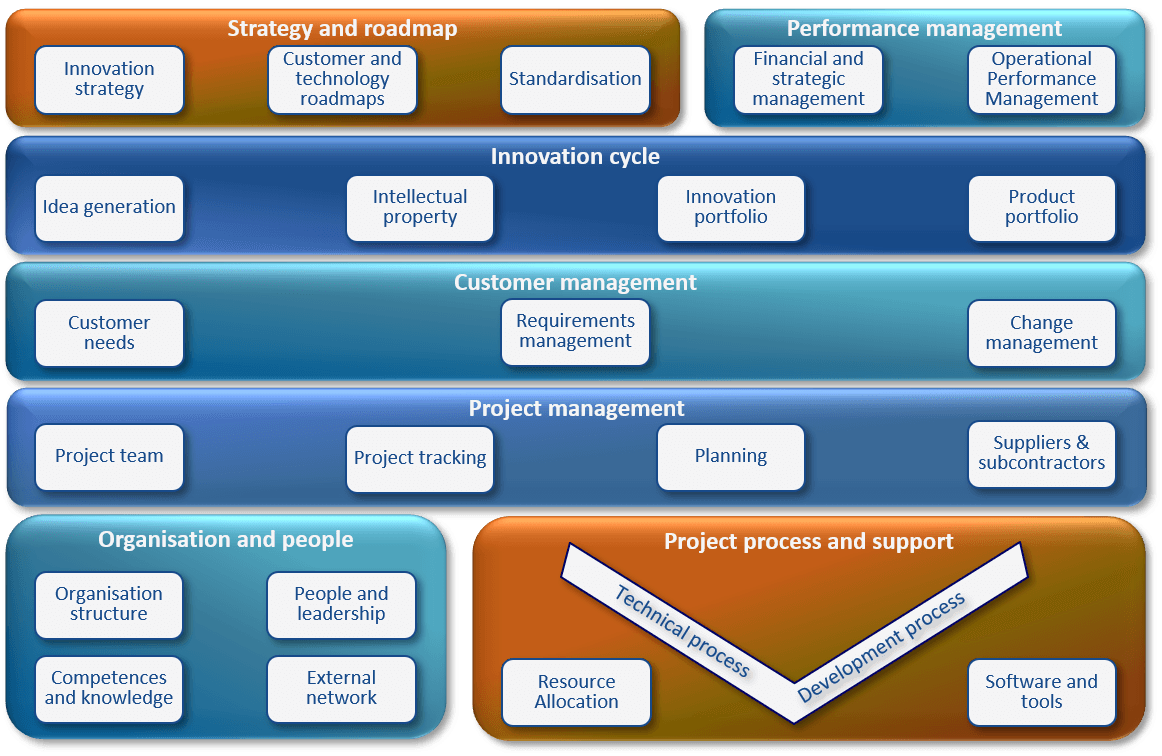 Brief description of the Best practice model
The model includes 120 best practices structured in 7 categories and 23 areas as summarised below.

Strategy and roadmap
Innovation strategy: type of content and level of detail in defining the strategy, associated objectives and strategic plans, analysis of the value of "open-innovation
Customer and technology roadmaps: level of definition of the two roadmaps (or forecasts) and exchanges between R&D and Marketing or Sales
Standardisation: definition and use of a standardisation policy for components, parts or products
Performance Management
Strategic and financial management: cost management, taxes and subsidies, project cost management and ROI, activity monitoring and according to strategic profiles
Operational management: objectives and indicators other than financial and monitoring methods
Innovation cycle
Idea generation: management of the idea generation process
Intellectual property: patent management and competitive intelligence process (filing, termination)
Innovation portfolio: methods and processes for managing the portfolio of ideas, pre-studies or feasibility studies; existence of objectives and indicators, integration with individual project management
Product portfolio: analysis of the existing product portfolio, product life cycle and coordination with the innovation portfolio
Customer management
Customer needs: methodologies used to identify customer needs and test ideas from within
Requirements management: management of customer needs and their transcription into functional specifications, prioritisation of needs, monitoring compliance with specifications
Change management: management of change requests from the customer (needs) or internally (technical specifications, design, etc.)
Project management
Project team: structuring, roles and responsibilities, reporting and physical location
Project tracking: project meetings, indicators, management methodology, risk management, visual management
Planning: level of definition and effective use of schedules, resource requirements, progress indicator
Subcontractors and suppliers: management and monitoring processes for subcontractors and suppliers, roles and responsibilities, procurement and R&D coordination
Organisation and people
Organisational structure: geographical (if several sites) and local organisation, roles and responsibilities between sites or between functions, responsibility for the entire development cycle, grouping similar functions
People and Leadership: skill and experience levels of technical staff and managers, social climate
Competences and knowledge: Skills management and development, knowledge management and sharing
External network: definition of a policy concerning the network with partners, suppliers.... Monitoring of the actions and effectiveness of this policy
Project process and project support
Technical processes: level of definition and management of technical methodologies and processes (design, testing, etc.), design reviews
Development process: level of definition and effective use of the process and development stages (stage-gate, level of flexibility and parallel developments...), risk management
Resource allocation: definition of a resource allocation process, roles and responsibilities, capacity building and needs, objectives and indicators for monitoring allocation
Software and tools: use of efficient and adapted tools, in phase with partners
Example of usage for evaluation:
Comprehensive assessment of your Research, Development or Engineering management, functions and practices to enable you and your team to:
identify the key improvement drivers to develop more innovative products, of better quality, at reduced cost, with shorter time to market
compare your practices with world R&D best practices
develop improvement action plan based on actionable drivers thanks to our specific Wevalgo organisational model