Highlights
44 questions structure across 4 categories and 15 areas to quickly assess the performance of your Project Engineering management. They enable to identify strengths and improvement opportunities based on high level best practices but capturing perception across the organisation.
Areas of diagnosis carefully designed to shine a light on the lifecycle of project engineering, from customer bid to project delivery.
Both normative questions with specific criteria and questions about personal opinions to get a balance between objective evluation and subjective perception.

Questionnaire Framework for Project Engineering scoping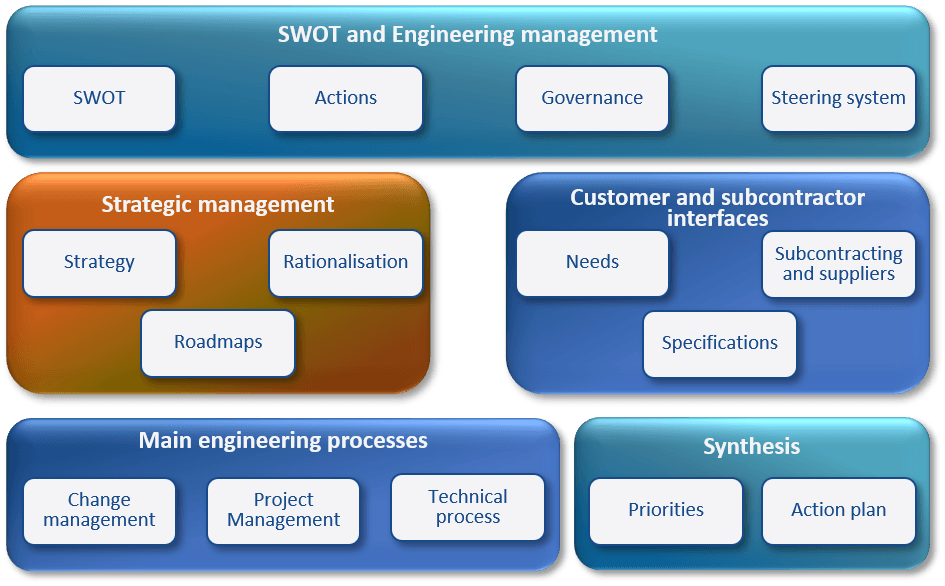 Summary of the questionnaire:
SWOT and engineering management
SWOT: identification of strengths, weaknesses and challenges in project engineering
Actions: identification of engineering improvement plans and results obtained
Governance: understanding and assessing the effectiveness of the system of roles and responsibilities
Steering system: decision-making and action, team meetings, objectives and indicators.
Strategic management
Strategy: definition and understanding of engineering strategy
Rationalisation: modularisation or standardisation of systems or subsystems
Roadmaps: anticipation of market needs and alignment with anticipation of technologies or components
Main engineering processes
Change management: change requests from customers and internal requests
Project management: definition and use of project management methods
Technical processes: documentation and effective use of technical processes adapted to each field of expertise
Customer and subcontractor interfaces
Needs: analysis of customer needs, tendering process (definition, resources allocated, validation response)
Subcontracting and suppliers: internalisation and outsourcing policy, quality and performance management, working with purchasing
Specifications: management of customer specifications or for subcontracting and purchasing


Synthesis
Priorities: identification of priorities for progress
Action plan: obstacles and benefits, implementation of a progress plan