Highlights
44 questions structured across 6 categories (and 4 optional ones) to quickly evaluate the performance of the management of a production site.
A mix of normative questions with precise and auditable criteria with opinion seeking answers providing a degree of objective evaluation balanced with subjective perception.


Scoping questionnaire for a Production environment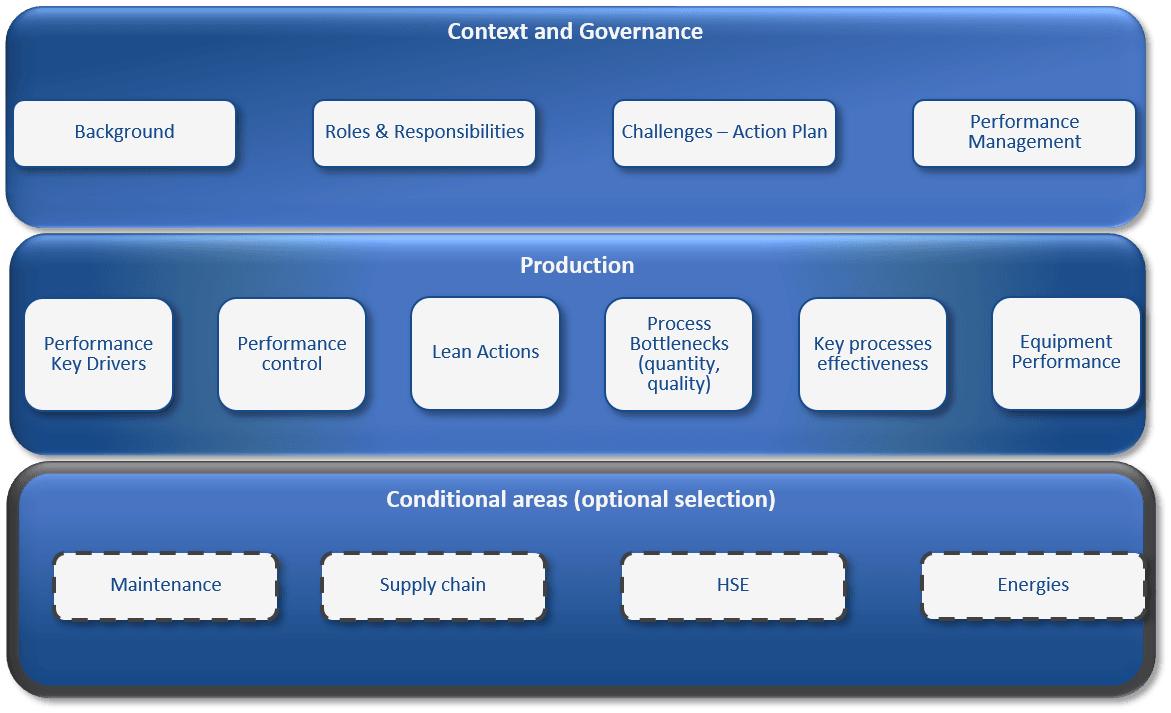 Key principles
The focus of this questionnaire is on the management practices of a production site. However, it also includes sections on the general context and management of the organization.

Four functional areas are optional (Maintenance, Planning, HSE and Energy; you can activate them depending on the context. You can also choose to let the participants decide for themselves whether or not to include these areas.

For these, since they are not the focus of the evaluation, there are a limited number of questions to keep the questionnaire short.



Description of the questionnaire
Background
objective: to understand the participant's personal profile, role and department organization (if he/she is a manager)
sub-categories: personal information, role and missions
questions: 4 open-ended questions (one optional); personal role and history, current responsibilities, department organization (optional)
Challenges - Action Plan
objective: to understand challenges, strengths and weaknesses, as well as actions for improvement
sub-categories: challenges-force-weaknesses, improvement plan
questions: 6 questions; challenges, strengths, weaknesses, improvement plan, evaluation of the success of the improvement plan and reasons for the evaluation
Roles - responsibilities - performance management
objective: understand the clarity of roles and responsibilities, the effectiveness of the organization's work interfaces and performance system
subcategories: roles and responsibilities, interfaces, performance management
questions: 6 questions; evaluation of each theme with reasons for the evaluation
Production
objective: to understand the effectiveness of production management, key performance factors and key issues
sub-categories: key performance factors, performance monitoring, Lean actions, bottlenecks (quantity, quality), efficiency of main processes, equipment performance (conditional)
questions: 15 questions: list of key performance factors with the actions in place to optimise them; evaluation of their effectiveness, key indicators used and list of management meetings, Lean actions and evaluation of their effectiveness, bottlenecks or areas with quality problems, evaluation of the main processes (resource management, planning, operating procedures, quality, skills, root cause analysis, short interval control), equipment reliability, changeover times, parameter control
Maintenance (the whole category is optional)
objective: understand the key characteristics of maintenance and performance
subcategories: general performance, detailed questions
questions: 9 questions: 9 questions; general performance evaluation, evaluation of key maintenance processes (installation of new equipment, preventive plan, curative maintenance, maintenance management, skills, production-maintenance coordination), use of maintenance management software and processes managed by it, detailed processes in place (priority system, equipment criticality, FMEA, standard time, failure history and reliability plans, indicators)
Planning (the whole category is optional)
objective: understand the principles, processes and performance of planning
subcategories: general performance, detailed questions
questions: 6 questions; general performance evaluation, detailed evaluation (repair rate on time, forecast, long-term to daily planning, supply planning, stocks, planning optimization)
HSE: Health - Safety - Environment (the whole category is optional)
objective: understand the principles and performance of health, safety and environment
subcategories: general performance, detailed questions
questions: 6 questions; evaluation of health, safety and environmental performance, processes in place (policy definition, roles, training and communication, risk area management, indicators, staff awareness and suggestion system)
Energies (the whole category is optional)
objective: to understand the principles and performance of energy and effluent management (electricity, gas, clean water and waste water...)
subcategories: general performance, detailed questions
questions: 4 questions; performance evaluation, process in place (consumption reduction plans and actions, integration into standard procedures, staff awareness, measurement system, indicators)
Benefits and obstacles (conclusion)
objective: to understand the perceived benefits and obstacles, and the motivation for an improvement plan
subcategories: improvement plan and benefits
questions: 6 questions; needs for an improvement plan, perceived benefits (priority among a list), perceived obstacles to improvement, other