Highlights
Quick 18-question questionnaire to assess the maturity of organisational practices in relation to the Wevalgo Operational Excellence model.

Can be answered by a single person or used to make an internal comparison with several participants.


Illustration of the "Maturity Matrix" result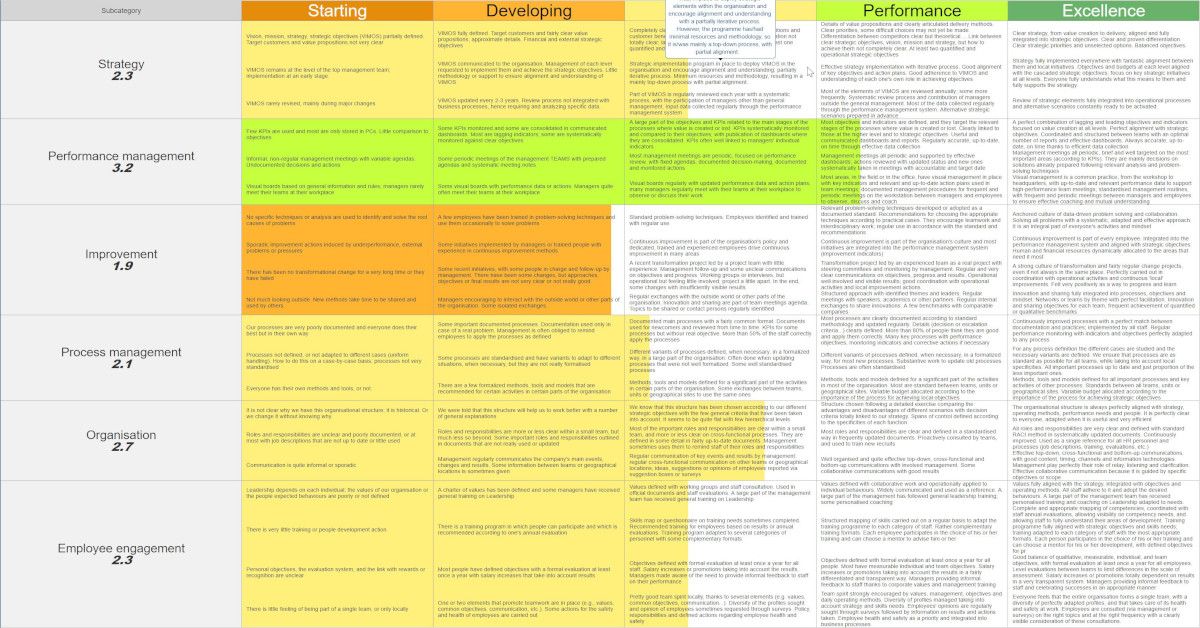 Questionnaire short description
The questionnaire is based on Wevalgo's Operational Excellence model, which includes six areas of Excellence as illustrated below.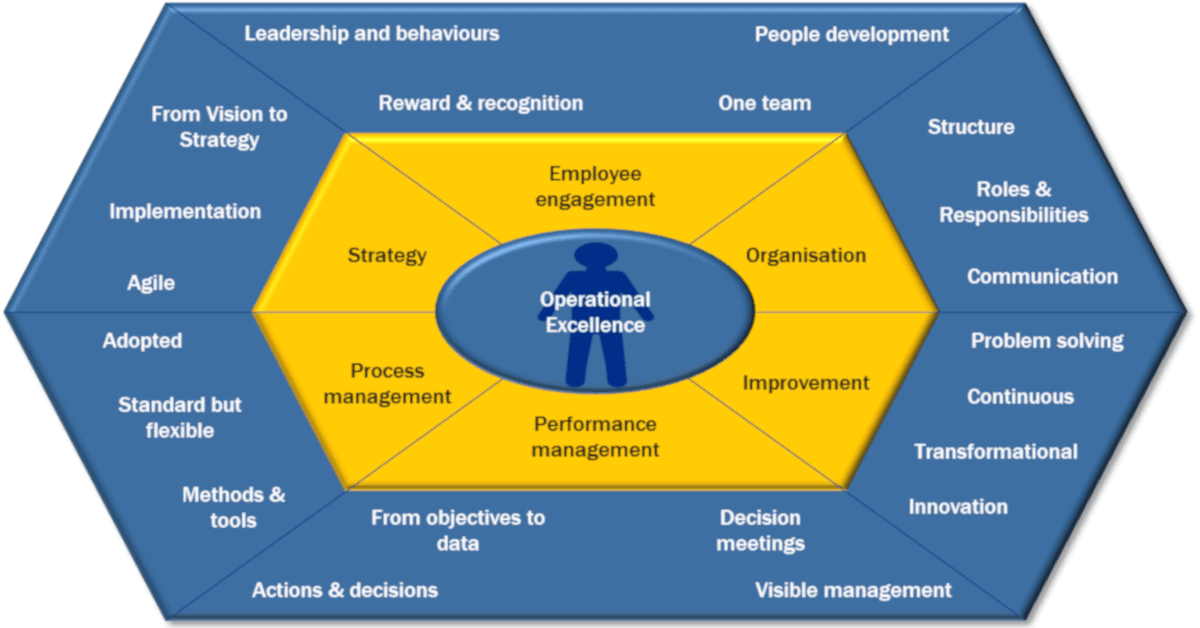 Strategy Excellence
From vision to strategy: what are the strategic elements defined (vision, mission, strategy, strategic objectives), are they based on robust analyses and are they well understood?
Strategy implementation: how is the strategy communicated and deployed throughout the organisation to ensure full staff buy-in and operational ways of working aligned with the strategy?
Agile strategy: how is the strategy reviewed and adapted to external events and internal performance?
Performance management Excellence 
From objectives to data: how are objectives and performance indicators defined and used; how are the data needed to build indicators collected?
Meetings - Decisions - Actions: how are management meetings managed to make the right decisions and actions?
Visible management: do managers use standard management routines? How is the visual display used in the performance management system?
Improvement Excellence
Problem solving: how are cause analysis and problem solving techniques defined and used appropriately?
Continuous improvement: how is continuous improvement implemented and by whom? Is it monitored?
Transformational improvement: are there more significant improvements that require project and change management approaches? How are they deployed?
Innovation and sharing: how is innovation and knowledge sharing managed? Are good external practices being sought or adopted?
Process management Excellence
Adopted: are the processes defined in the right level of detail and in accordance with practice? Are they being used effectively?
Standard and adapted: are the processes both standardised and adapted to different situations?
Methods & tools: are the methods and tools defined, standard or chosen in relation to local needs and the organisation's strategy?
Organisation Excellence
Structure: is the definition of the organisation's structure (organisation chart) based on factual criteria and is it well communicated?
Roles and responsibilities: are roles and responsibilities clearly defined, at the right level of detail and well understood by everyone?
Communication: are bottom-up, top-down and cross-cutting communications well organised and effective?
Employee engagement Excellence
Leadership and behaviours: how are the level of Leadership and good behaviours developed?
People development: how are people skills assessed, anticipated and developed?
Reward and recognition : Are people recognition and rewards appropriate?
One team: does everyone feel that the entire organisation is one team? Is diversity well managed? Is health and safety a priority?