Highlights
Up to 26 meeting effectiveness rules tested, structured in 3 categories and 10 areas, giving both a summary result and and a detailed analysis
Assessment self configurable to assess different types of meetings : performance steering, workshops, information sharing
Wevalgo Meeting effectiveness assessment framework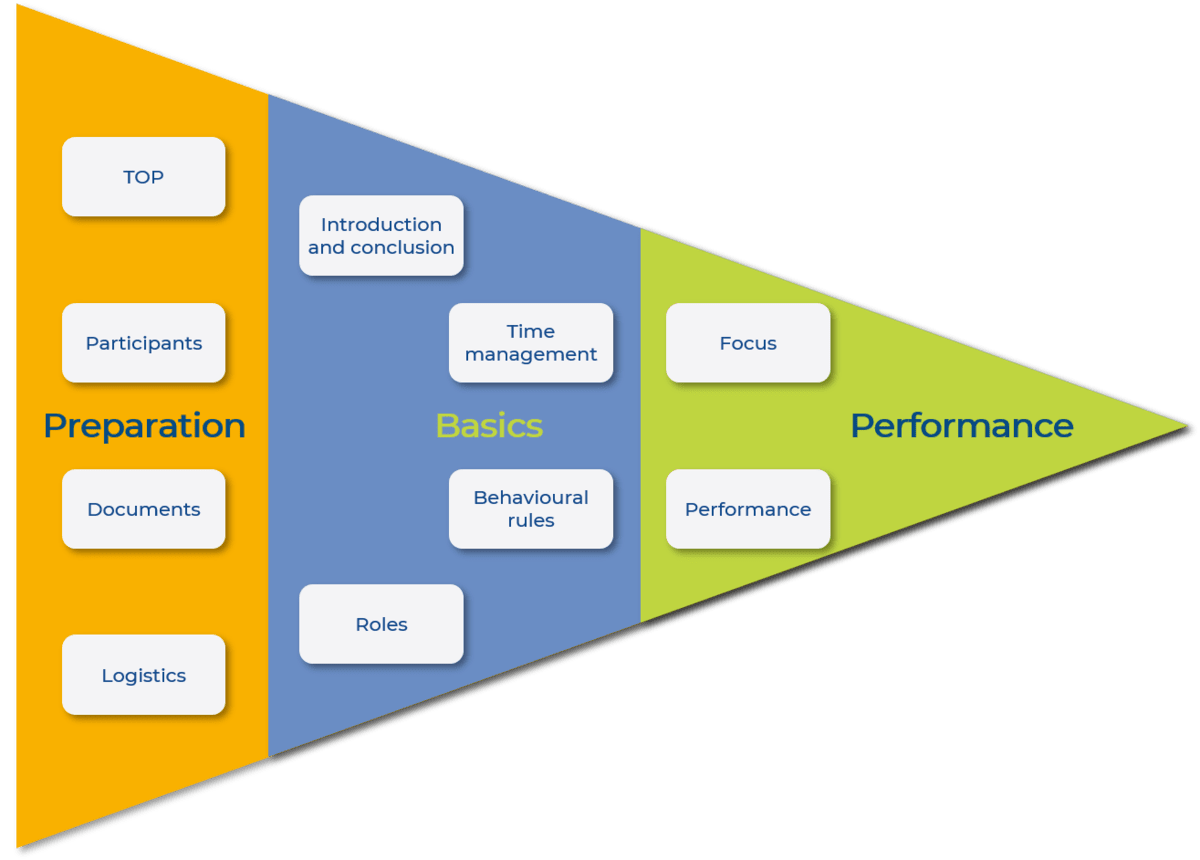 Description of the model
Preparation 
TOP: 2 rules evaluated about the Theme, Objectives and Plan of the meeting
Documents: up to 4 rules on the meeting supporting documents. Some rules depending on the meeting type.
Participants: 3 rules on how the participants get prepared
Logistics: 3 rules on the logistics of the meeting(venue, time, equipment)
Basics of the meeting
Introduction and conclusion: up to 5 rules on introduction, the end of the meeting and the meeting notes. Some rules depending on the meeting type.
Time management: 3 rules on how the meeting agenda and timeing is managed
Behavioural rules: 4 rules on specific rules; usage of phone and other interruptions, behaviours such as being open, constructive...
Roles: up to 4 rules on the meeting roles (secretary, timekeeper...). Some rules depending on the meeting type.
Performance
Focus: up to 4 rules on how the meetings is focused on the important topics. Some rules depending on the meeting type.
Performance: up to 4 rules to ensure the meeting decision and actions will be effective to impact the company performance. Most of the rules apply to the performance steering meetings
An assessment that takes into account the specific rules applicable to different types of meetings:
A real difference with Wevalgo!
Most recommendations you may find on meeting effectiveness rules are generic. Our evaluation model takes into account the fact that some rules only apply to certain types of meetings.
When performing the assessment, the participant can select what type of meetings he assesses and the rules tested are automatically configured accordingly.
Our model enables to tailor the assessment to the following meeting types: 
Steering: a meeting which consists of steering the activity of a team: forecasting or planning of the activity, review of objectives and indicators, definition and follow-up of actions, etc. It is generally regular (from daily to annually), but can be for a particular "event", particularly in the case of project management: kick-off, milestone achievement, acceptance, etc.
Information: a meeting that consists mainly of delivering information to an audience. Communication is often one-sided, although some interactivity can be added.
Information sharing: is similar to information, but more interactive, on a more specific topic and usually between operational teams (horizontal communication). Example: sharing experience on a project.
Workshops: meeting to obtain a particular result, often with specific facilitation. For example: analysis of the root causes of a problem, brainstorming to identify ideas for products or services, definition of a strategic vision, etc.