Highlights
The evaluation questionnaire consists of 56 questions in two sets:
the Leadership style; the answers will define the predominant style among the four styles: Participative engagement, Passive delegation, Disengagement, Autocratism
Leadership qualities: innovative quality, energising communication, rightful demand
The style and quality of Leadership are assessed for each of the 5 key managerial situations: defining vision and structure of the organisation, managing activities and steering organisation performance, introducing Innovation & change, managing difficult situations, managing direct reports individual performance
The four Leadership stylles
Our Leadership Model defines 4 different styles according to:
the level of involvement of the manager, from fully involved to fully passive
the way he involves other individuals, from fully involved to totally not involved
The four resulting styles are described in the image below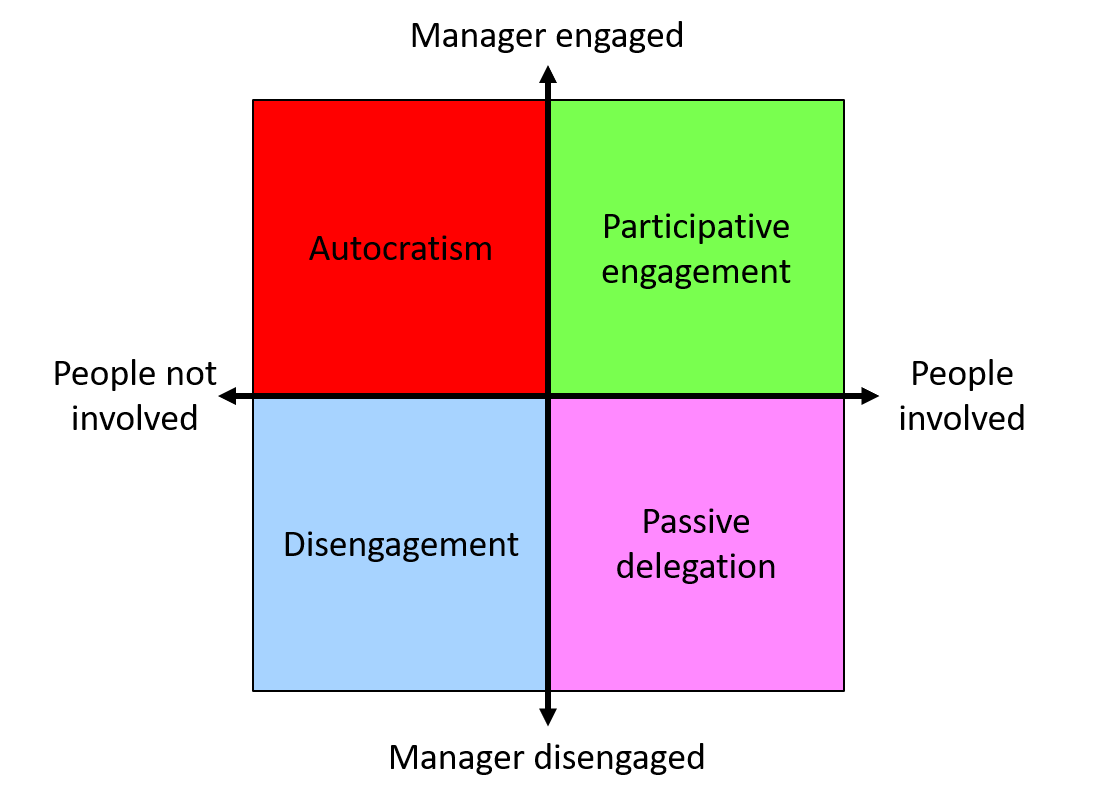 Even if one of the four styles is considered the best in most cases, this is not necessarily true in all situations and therefore the evaluation does not consist of a value or performance judgment. 
The three qualities of Leadership
This time, our evaluation identifies a level of performance on three key Leadership criteria
innovative quality: technical competence, proposal of ideas or solutions of very good quality (pragmatic, robust, simple,...), innovative and adapted to each situation
energizing communication: communication with a clear and adapted message, with the appropriate tone or behaviour (visual, non-verbal), at the right times and in a consistent manner over time
rightfull demand: ambition and requirement, for the leader himself and others, but in a way that is adapted to the situation and remains reliable and fair with others
The five managerial situations
Our long experience of consulting in organisation and management in all types of industries and countries has enabled us to identify five key activities of a manager::
Defining Vision and Structure of the organisation: Define the organization's vision and long-term objectives, define short-term objectives, define and clarify work methods (organizational structure, processes and methods, systems and tools)
Managing Activities and steering organisation performance: Planning and coordination of activities, review of organizational performance (plans and achievement of results), decision making and priority setting, problem solving
Introducing Innovation & change: introducing and managing innovation, improving or developing new working methods
Managing difficult situations: managing crisis situations or highly uncertain situations, managing conflicts between employees and managers
Managing direct reports individual performance: provide feedback and evaluate individual performance, define development plans and support individuals, make decisions about employees
Scientific model and practical concepts on which our assessment of Leadership is based
Leadership at the center of Wevalgo organisation performance model
Most studies on Leadership have shown there is a strong correlation between managers Leadership skills and their organisation performance.
Our PAOLA (Process, Assets, Organisation, Leadership, Application) model puts Leadership and people at the center of organisations performance.
Leaders create the right culture and social climate, guide, motivate and develop individuals to define and apply the other key elements of organisation performance: Strategy and Assets, Processes and rules, Organisation & Governance, Application effectiveness
A modern and pragmatic Leadership style and quality model
We have developed our own Leadership styles and quality model, building on main Leadership science, in particular the Blake et Mouton (1964) managerial grid and on the transformational Leader developed by Bernard Bass (1985).
From our management consulting experience with hundreds of organiations we have identified three key learnings enabling to modernise these theories:
The managerial grid dimensions are adapted in two ways:

the « human relationship importance » is specially relevant when applied to the people involvement in the thought, decision and organisation solutions building activities,
the « production importance» dimension is put into the context of the Leader personal implication, enabling to better grasp the concepts of direction, decision taking and role modeling.

We focus more on the « Transformational Leader» than on their impact on the individuals qualities (idealized influence, inspired motivation, intellectual stimulation, individual consideration),
These models can identify more actionable and tangible drivers, when consolidating and using them in a framework of management activities by category
Our
1-3-5TM Leadership style and quality
 model enables a thorough and pragmatic assessment, enabling the evaluated manager to identify very clear and actionable improvement drivers:
1: Leader style mapped in the personal implication – people involvement dimensions
3: Three qualities:
innovative quality: technical competence, delivery of ideas or solutions of high quality (pragmatic, robust, simple...), innovative and adapted to each situation
energising communication skills: effective communication with a clear and relevant message, with the appropriate delivery style, at the right time and consistently through time
rightful demand: ambitious and demanding, for the leader himself and for the others, but staying rightful and reliable
5: Application of the Leadership style and quality to the five management situations: Vision and structure, Activity and performance steering, Innovation and change, Difficult situations handling and individual performance management.