Digital assessment Highlights
Quick 24 to 30 practices assessed based on Wevalgo's Digital model, which includes 5 areas and 12 subareas as illustrated below
5 stages of maturity with clear description of each stage
Adaptable to your Business
Meaningfull and clear questions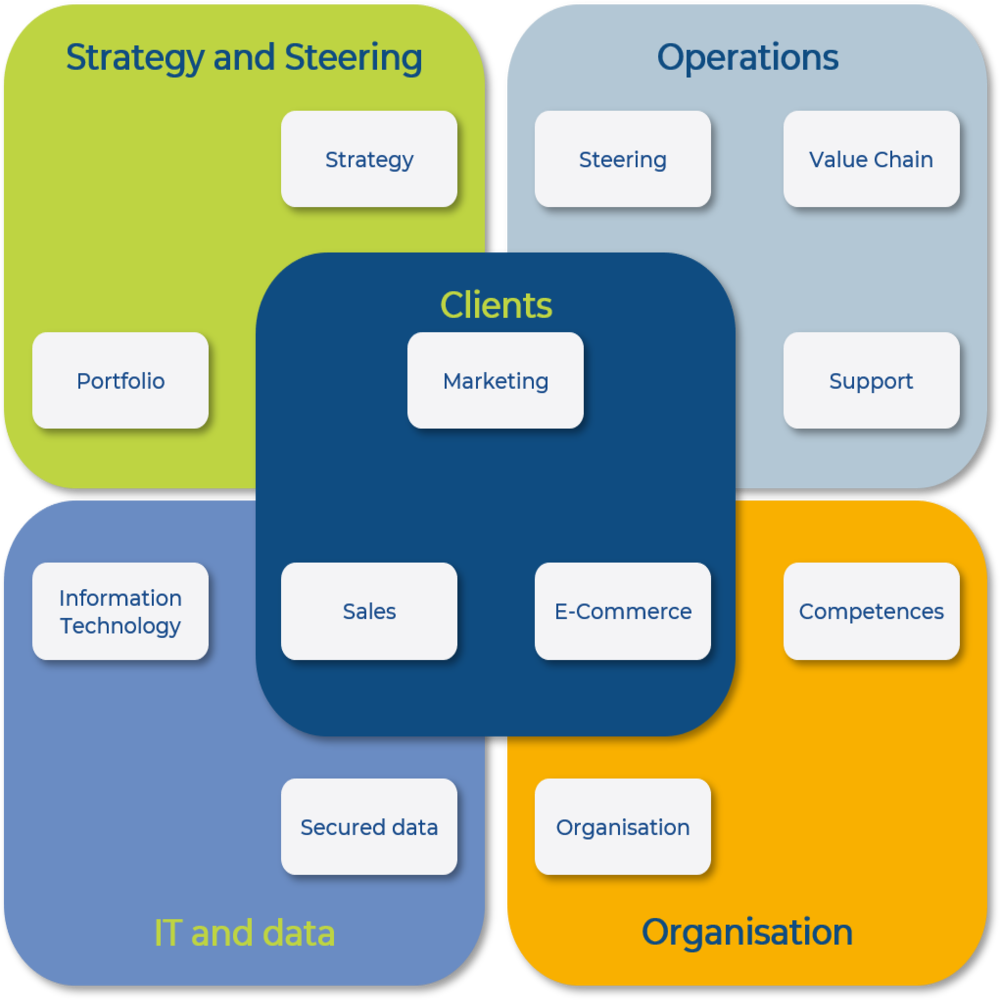 Description of each stage
The evaluation consists of positionning the company in one of the 5 "maturity stage", for 24 different practices. Each stage is wery well described to limit personnal interpretation and make the evaluation more relevant and comparable with others.
For example we avoid questions, that describe partially the stages. Example seen elsewhere where only the extreme stages are described : "How would you rate your capability to create value from data ?" : 5 = Mature - Systematic approaches to leverage data for the optimisation of operations and the fostering of new business models are in place. 1 : Limited - Large amounts of data are collected but structured approaches for utilizing the data to enable businesss models are missing.
Adaptation to your Business
There is nothing more frustrating to have questions about how you production equipment is connected to internet....when you don't manufacture products...
Contrary to many of the other models you may find on the internet, Wevalgo's evaluation can be tailored according to the different business caracteristics of your Business that you specify during the introductoin of the evauation :
Do you sell or manufacture products or are you a service provider (or both) ?
Do you sell in physical shops ?
Do you have a Research and Development department ? Do you perform project management ?
Meaningfull and clear questions


Our evaluation questions have an explanation about the underlying context so that people can understand the question without being an expert.
For example we don't ask questions like that :"To which extent does your IT architecture address the overall requirements from digitization and industry 4.0 ? 5= Completely. 1 = Not at all.
To be able to answer this example, you need to know what are the overall requirements of industry 4.0; and since the literature on the topic is abondant, good luck to have a meaningfull answer.
Many results and analysis, including "Maturity Matrix" result
 The results can be shown in many different graphs. 
One of Wevalgo advantage is that you can compare the results between the different respondents or category of respondents. For example you can compare results coming from different departements, different business units, different geographies and realy understand where to improve first.
See illustration in the "Result Report" section