Industrial Maintenance
Maintenance operational management
Do you apply best practices in daily maintenance management?
Focused and in-depth evaluation based on best practices
Scope: Industrial Maintenance focused on Maintenance operational management
Industries: Automated or semi-automated production
Specific analysis:
Preventive maintenance
Organisation performance actionable drivers
Do you apply best practices in daily maintenance management?
Number of best practice evaluations
38
Time to complete
40 - 80 mins
Multi Level analysis
 

 

Optional anonymity
 

 

Consolidated results
 

 

Specific features

Preventive maintenance model
Organisation performance actionable drivers

Languages available

English&nbsp?
Focused and in-depth assessment of the operations of a maintenance function within all industries of any size in particular tailored for those that have manufacturing sites with automatised or semi – automatised production lines. The evaluation provides a targeted diagnostic against world best practices in maintenance, looking at:
Standard Operating Procedures
Work Orders
Data & Computerised Maintenance Management System
The assessment provides multi-level analysis on several axis: by individual or consolidated area of best practice, by organisation dimension (geographical location, department, production area, hierarchical level or any other dimension depending on your organisation), by evaluator, by action drivers (Wevalgo model), by Preventative Maturity
The results are provided in a concise and detailed (if option selected) report with multiple graphs and allowing you to clearly identify areas of improvement as well as perform internal or even external* benchmarks


Scope and industries
This service is tailored for:
all industries that have manufacturing sites with automatized or semi – automatized production lines; this include manufactured products and processed products.
companies with one or several production sites
focused on the maintenance operational activities (Standard Operating Procedures, Work Orders, Data & Computerised Maintenance Management System)
Who For
Company Production or maintenance senior manager, Production site manager, Production manager, Maintenance manager, internal consultants (e.g. continuous improvement team) or external consultants
Highlights
More than 35 best practices evaluations on daily maintenance management, structured in 3 categories and 7 areas, enabling to identify strengths and improvement opportunities in a detailed and a consolidated view
Identification of strengths and improvement opportunities according to a WeValGo organisational model enabling to define improvement actions along consistent drivers (strategy and assets, organisation and governance, Leadership and people, process and rules, effective implementation)
Evaluation according to an Integrated Preventative Maturity model, that is not only evaluating the practices directly linked to the Maintenance policy, but all the categories and areas of maintenance
Normative questions with precise and auditable criteria (check with evaluated organisation data) enabling objective evaluation
Ability to create own organisation dimension (functional, geographical, hierarchical, or even particular organisational entity) enabling to compare evaluations:

of the same system (the practices, tools, organisation set up) used by or applied to different people
of different systems used in the various organisational areas or units of the evaluated organisation (e.g. different geographical sites)

Evaluations can be kept anonymous

How long does it take?
Since it is a focused assessment, it takes around 45 – 90 mins by evaluator to fill all the questions in a meaningful way. The questionnaire can be recorded and answered in several sessions
Wevalgo Maintenance Daily operations management InFocus Model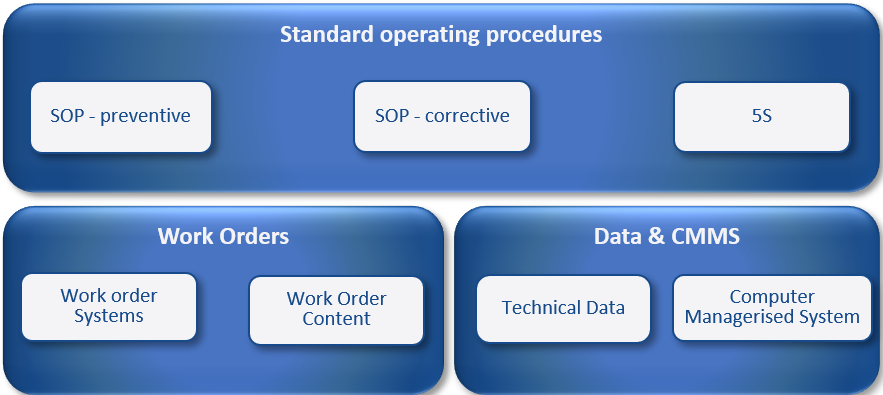 A model built on practical experience of best practices on Daily maintenance operations management
As with all Wevalgo off the shelf services, this model is built on the extensive management consulting experience of international Maintenance practices; each of its best practice has been observed in real conditions.

More than 35 best practices in a structured model
The model is structured in three categories and eight areas, each area includes 3 – 10 detailed best practices; this structure enables to identify strengths and improvement opportunities at different levels, from a high level and holistic view to a detailed view. It looks in depth at the operations controls in place in the organisation compared to best practices comparable across multiple sites and/or others in the same industries and other industries.
Standard Operating procedures: preventive and corrective, definition content and quality, standard operating times, time analysis, accessibility, adaptation to different level of complexity, training
5S: definition and application, gauges and Poka-Yoke tools,
Work order system: work order definition content and quality, corrective work order request, work order priority, preventive work orders, work order status,
Technical Data: drawings and schematics, softwares documentation, user manuals, standard identificatioin number, hierarchical tree structure...
CMMS (Computerized maintenance management system): system used, work orders entered into system, work order template, planning, maintenance cost, spare parts inventory

Normative questions
For each best practice, the question is very precise and the answers choices are almost systematically normed to facilitate the evaluation and mostly to avoid subjectivity
For example, some evaluations use a norm derived from CMMI; for others we have defined specific norms.
According to the practices, evaluation criteria used are, for example:
formalisation and detailed level,
quality and scope coverage,
people ownership and effective usage level,
roles and responsibilities clarity.
Integrated Preventive Maturity Model
We have built a model to assess where is your maintenance in the journey that goes from being organised to be predictive in four stages as described below. It includes also daily activities related to preventive maintenance
Stage

Description of the stage

Organise

The maintenance has defined processes and methodologies and applies mostly a corrective type of maintenance

Plan and coordinate

There is a defined strategy and maintenance policy per type of equipment, with planned Preventative maintenance and with Total productive maintenance principles partially implemented.

Maintenance uses planning tools and conducts some improvement plans including reliability actions

There is a good coordination with other functions

Analyse and prevent

Key Performance indicators are used to steer maintenance organisation.

There is a strong usage of data analysis (equipment performance analysis and failure root cause) to define equipment criticality, condition-based maintenance, reliability programmes

Predict

There is a strong usage of statistical data analysis and mathematical modelling; artificial intelligence starts to be introduced.
In most maintenance maturity model, there is an evaluation of how preventative or predictive is the maintenance organisation; but it is in often limited to the maintenance policy area.
The additional value of our model is it is integrated with each maintenance area : each maintenance area is assessed with criteria belonging to this model as pictured below (strategy area example ).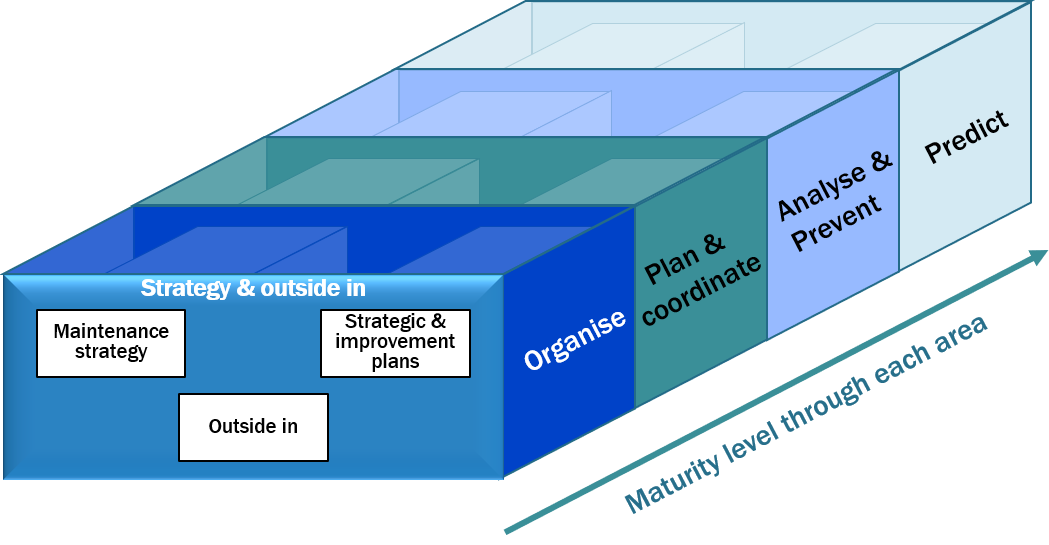 Wevalgo Organisation performance actionable driversmodel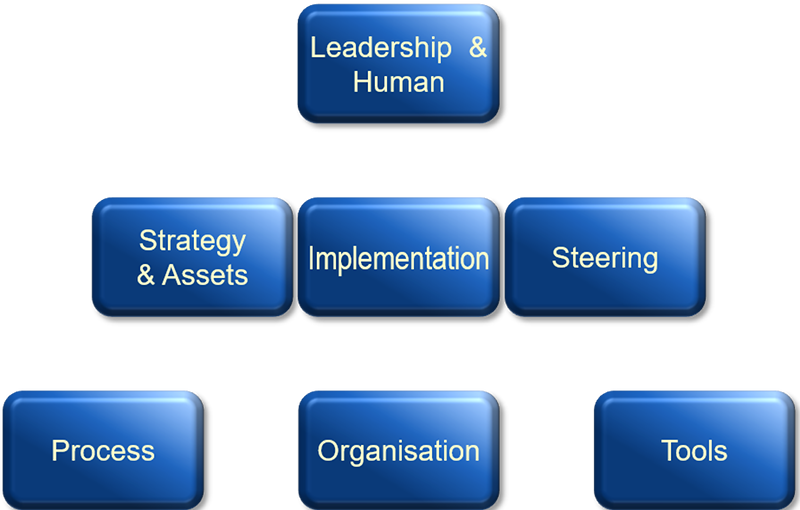 In the detailed results report each practice is linked to one of the Organisation model dimension so that the improvement drivers are also defined along these dimensions.
That enables to have even clearer and more actionable drivers to facilitate the improvement action plan definition.
The dimensions are:
Leadership & People: leadership capabilities, competences, social climate and value,
Strategy & assets: organisation strategy, technology, tangible and intangible assets,
Organisation: organisational structure, roles and responsibilities,
Steering: decision making, actions and performance indicators management,
Process: process, operating procedures and rules definition,
Tools: decision making tools, process support tools, software applications,
Implementation: effective implementation of strategy, organisation, steering, processes and tools,
Get instant and full access to reports as soon as evaluations are completed.
Gain multi-level analysis on several axis that can be explored in varied depths and dimensions through a user friendly results menu. A few samples of the results report are shown below
Heat map
Visualise the performance and their drivers at a glance across all categories and sub-categories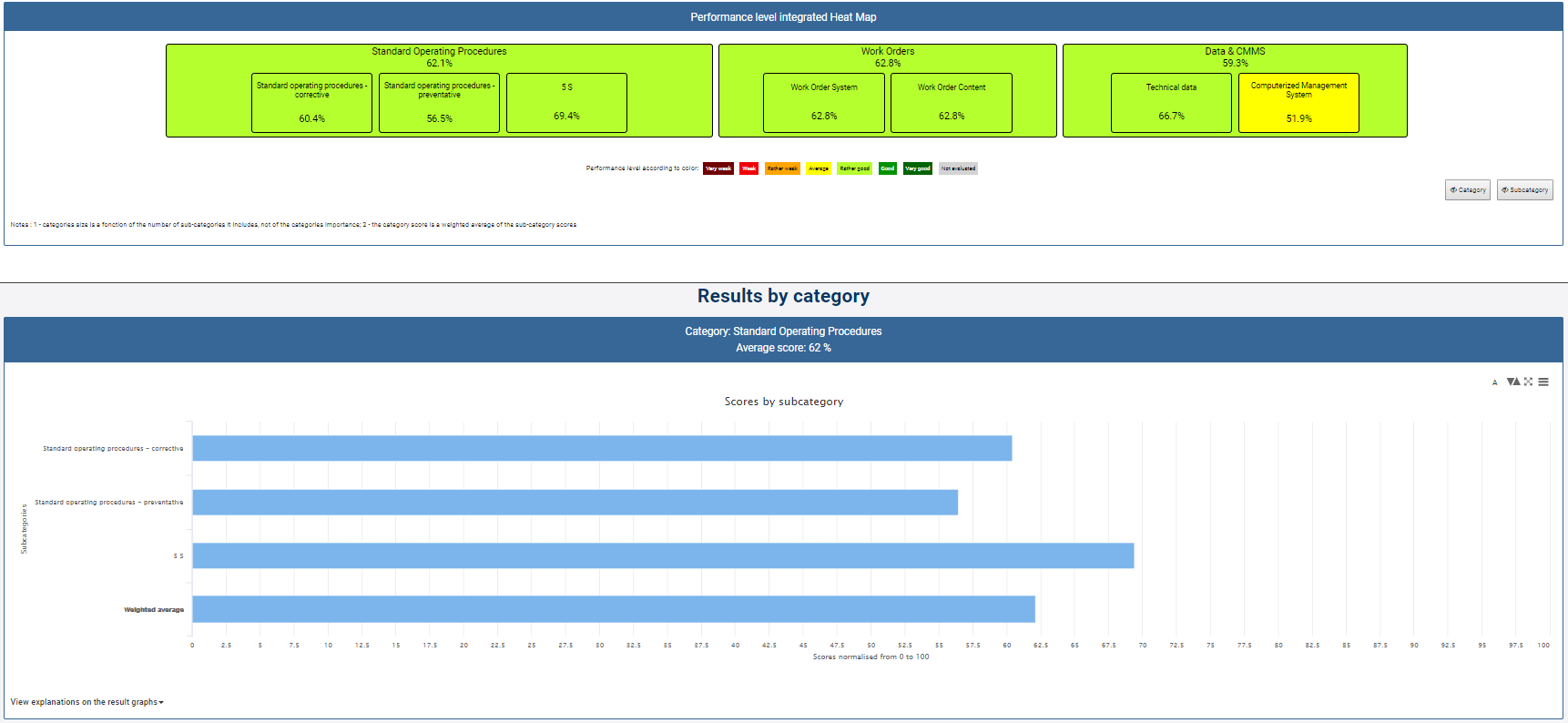 Results by organisational dimension
Compare performance across your own, relevant and entirely customisable organisational dimensions. For example by geographical locations, departments, hierarchical levels or any other you see fit. Zoom in to breakdowns by category, subcategory and/or question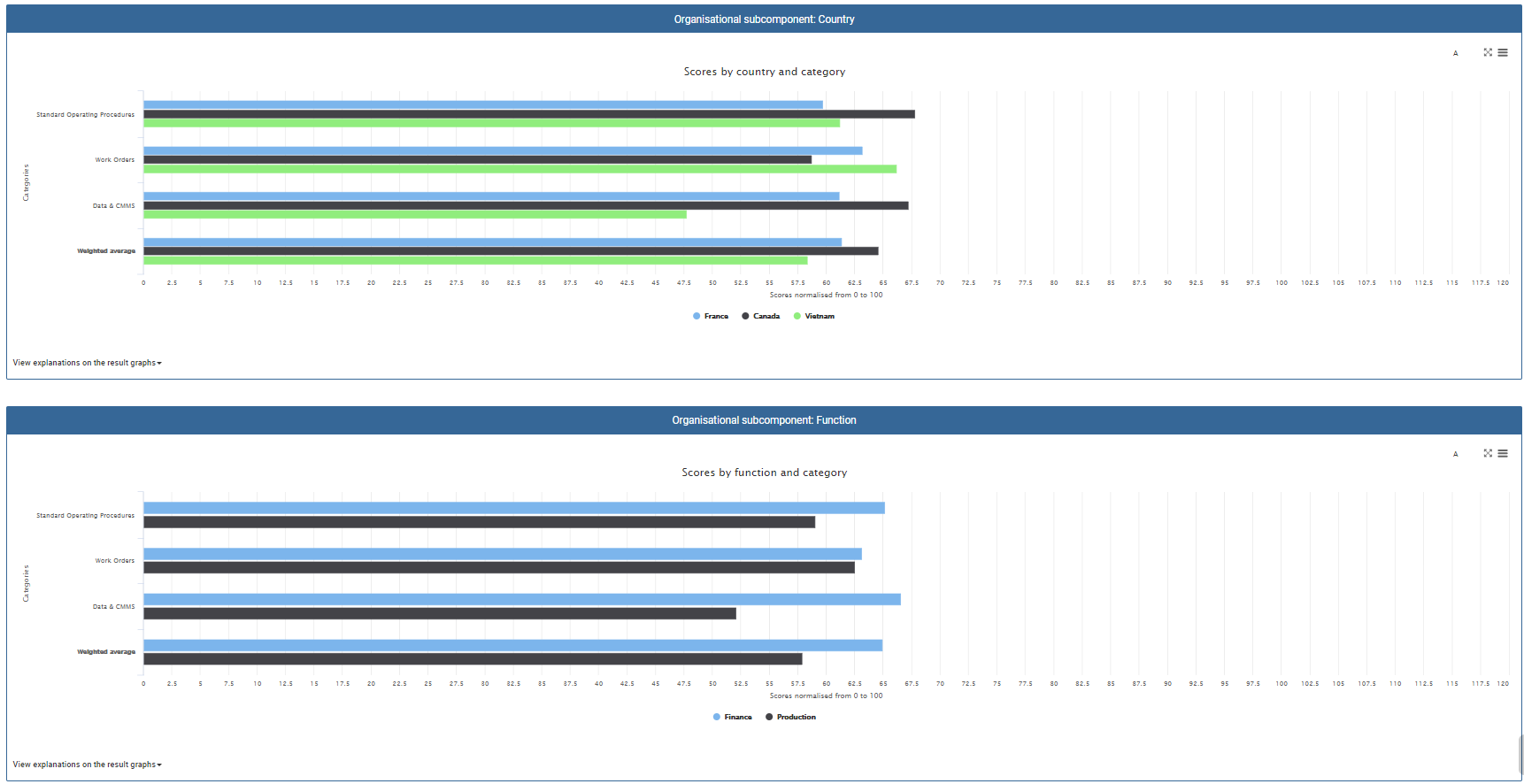 Results by evaluator and category
You can see detailed results to better understand the causes of your organisation performance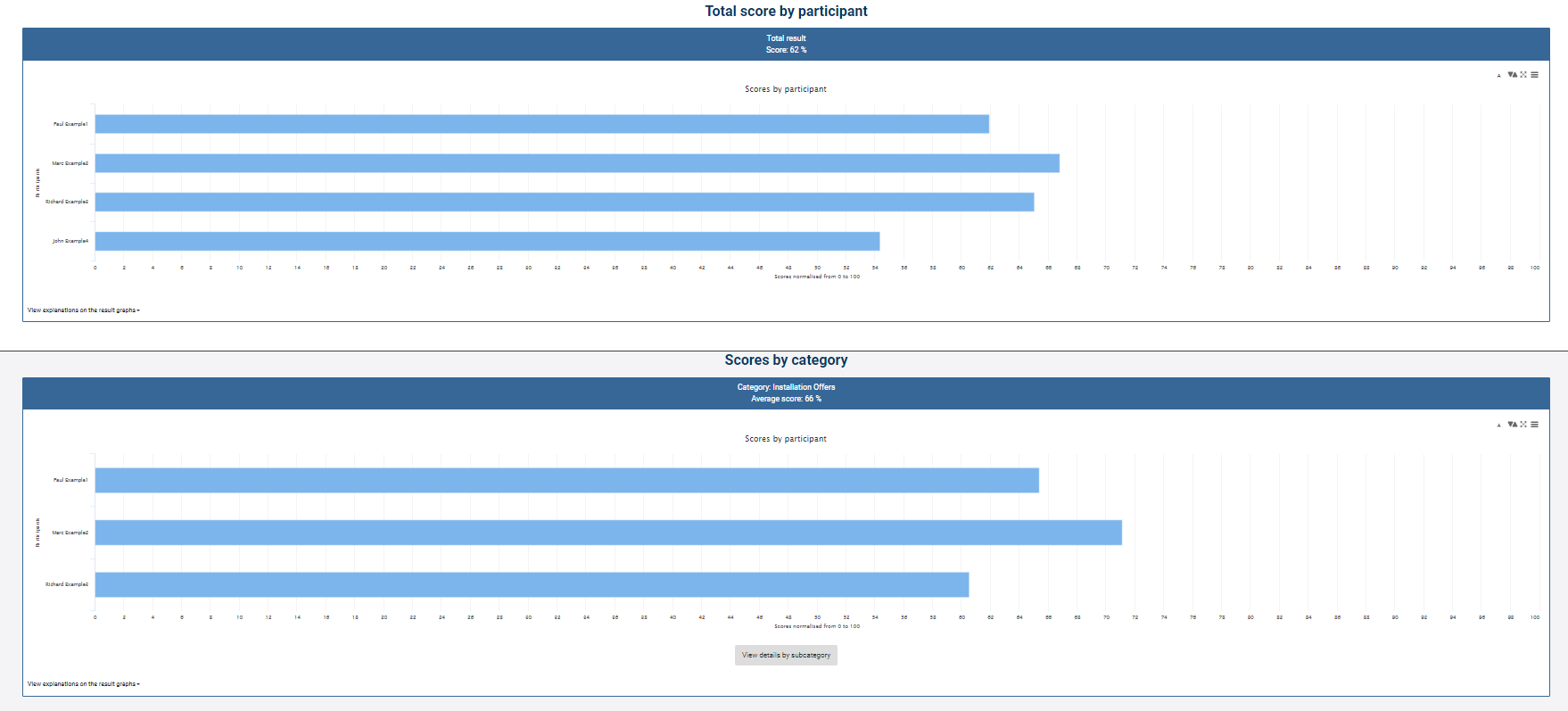 Wevalgo excellence model Results
Get valuable insight into areas and axes of progress thanks to our embedded Wevalgo model. Other analytical models may be incorporated, see key concepts for more information)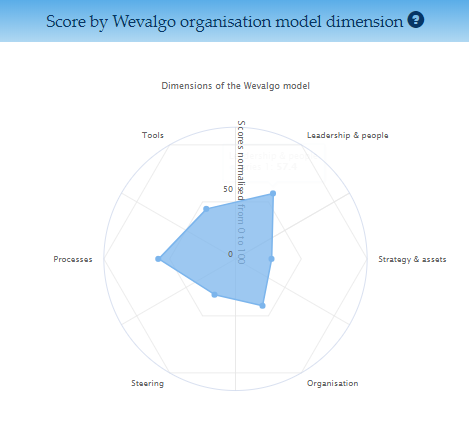 We have expert consultants on hand to build their own evaluations, assist you and interpret your results. Select the Expert Review option on the purchase menu.