Is Design For Manufacturing and Assembly (DFMA) better than DFM and DFA?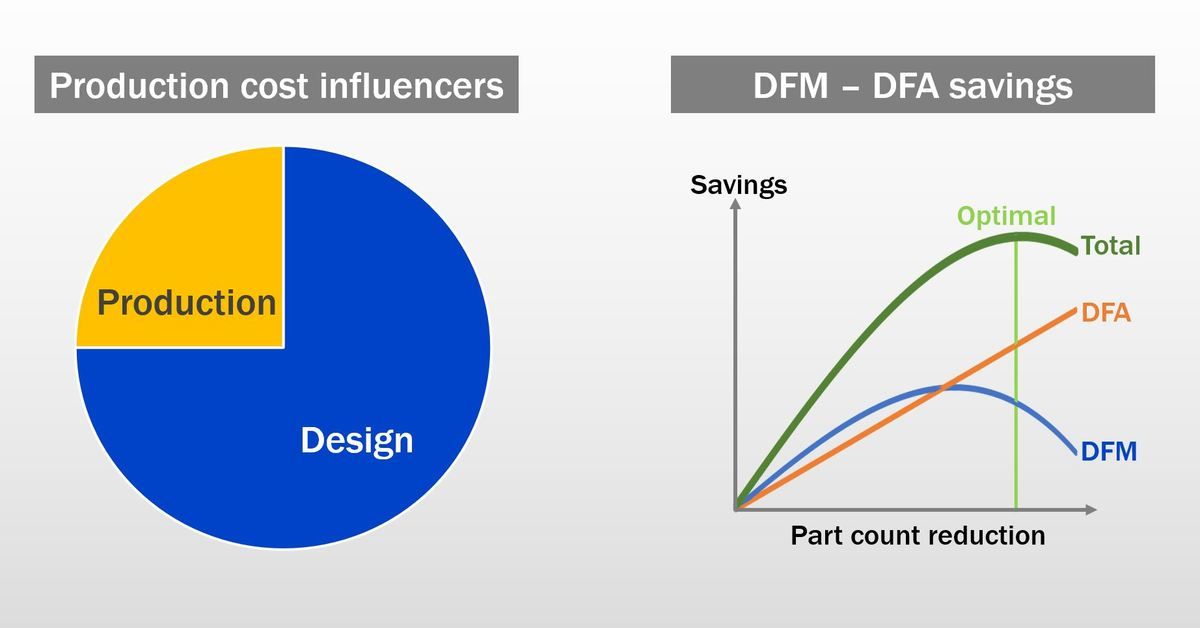 What is DFM? DFM meaning is Design for Manufacturing. It is an engineering design methodology to reduce the complexity of manufacturing operations and the overall cost of production including the cost of raw materials.
What is DFA? DFA meaning is Design for Assembly. It is a engineering design methodology to facilitate or reduce the assembly operations of parts or components of a product.
The difference is that one focuses on parts (DFM) and the other on part assembly (DFA). Design for Manufacturing and Assembly (DFMA) combines both methodologies to find the optimum benefit.
Why using design for manufacturing (DFM) or design for assembly (DFA)
It is usually accepted (demonstrated?) that 70 to 80% of production costs are determined by engineering design decisions.
Hence the importance of using DFM or DFA
Design for manufacturing and assembly (DFMA), the right balance
DFM and DFA can be contradictory. At the extreme, the DFA approach can naturally lead to having only one part: the assembly cost becomes zero.
On the other hand, it can lead to an extremely complicated part to produce, with a high cost.
It is therefore appropriate to use a combined Design for Manufacturing and Assembly (DFMA) approach, which has become the standard today.
Main levers to reduce manufacturing costs through DFMA
DFMA lever 1: Reduce the number of parts
This is probably the most important lever of Design for Manufacturing and Assembly. It directly reduces the assembly cost, and a significant number of other indirect costs: administrative and logistical costs (ordering, transport, storage, etc.), test costs (for each part) and reliability costs (more parts = more risk of failure). This is a benefit coming from DFA methodology.
DFMA lever 2: Use standard parts
Standard parts are cheaper, more available and often more reliable than custom parts. This is a benefit coming from DFM methodology.
DFMA lever 3: Adopt a modular design
The use of modules allows several benefits depending on the case:
Reduce the overall number of components or parts. This is the case if a product exists in several variants (each of which may differ by a module) or if several products may use the same module. This reduces the associated indirect costs (administrative and logistical)
Reduce redesign or test costs by using existing modules rather than new parts
Take advantage of production scale effects for modules common to several parts
On the other hand, modularity is limited by the potential increase in assembly costs with more connections.
So, this lever is already a balance between DFM and DFA benefits.
DFMA lever 4: Design multifunctional parts
A multifunctional part reduces the total number of parts because instead of using two parts for two functions, only one part is needed. For example, a heat dissipator can be used as a separation as well.
It's also a compromise between the advantages of DFM and DFA, as a multifunctional part can be more complex and therefore more expensive.



DFMA lever 5: Design error-proof parts
It is probably the most famous lever of DFMA, sometimes called Poka-Yoke. It consists in designing parts that cannot be assembled in the wrong way or assembled on other products. This is a benefit coming from DFA methodology. This is often not a compromise with DFM as the part cost generaly don't increase because they are error-proof.
DFMA lever 6: Design parts to facilitate assembly
Some parts can be designed to facilitate assembly or testing. For example, in addition to their "product" function, a part can provide an assembly guide, or be reflective to facilitate inspection.
DFMA lever 7: Design to facilitate manufacturing
This is the counterpart of the previous lever, focused on the production of one part rather than the assembly of two parts.
This applies particularly to finishing operations such as machining and painting, which must be limited. We can also mention complex moulding parts.
DFMA lever 8: Limit tolerance constraints
It is also necessary to reduce binding tolerances or in general any "over-specification" that is not a customer requirement because they will increase production costs by imposing more robust processes, more sophisticated equipment or more extensive quality control operations. This is a benefit coming mainly from DFM methodology.
DFMA lever 9: Define the right fastening means
In general, separate and complicated fasteners should be limited and simple automatic fasteners preferred.
Separate fasteners increase the cost due to additional handling and indirect management costs. Moreover, they are often sources of quality defects.
It is necessary to design fasteners that have the lowest cost, for example:
prefer automatic fasteners such as clips
prefer rivets to screws
prefer self-tapping screws
avoid separate washers
avoid screws with tapped holes or that are too long or too short,
This is a benefit coming mainly from DFA methodology.


DFMA lever 10: Reduce or facilitate handling
The positioning, orientation and fixing of parts must be limited, for example by using symmetrical parts to avoid orientation.
The parts must be designed to be easily and safely grasped by the operator: not too small, not too large, not too heavy, not with sharp edges or tips.
This is a benefit coming mainly from DFA methodology.
DFMA lever 11: Reduce assembly directions
All parts should be assembled in one direction only and if possible, from top to bottom to take advantage of the effects of gravity.
This is a benefit coming mainly from DFA methodology.



Design For Manufacturing and Assembly methodologies for implementation
There are several detailed methodologies and tools to implement DFMA in your organisation. We focus here on the fundamental principles of these methodologies:
Collaborative work between design and manufacturing teams. Many stakeholders must participate in this process: marketing or sales (definition of the initial requirements), R&D or engineering, purchasing, manufacturing methods, quality and even logistics teams (logistical constraints) or customer service teams
An upstream work. starting at the marketing phase. Therefore the DFMA process car start several months or even years before the arrival in production
Practice feedback on products already in production. It is not only a question of production teams being involved in R&D, but also of R&D teams coming into production to see for themselves.
Other methodologies associated with Design For Manufacturing and Assembly (DFMA)
On top of DFM and DFA, some other engineering design methodologies are associated or similar to the design for manufacturing and assembly:
The Design for six sigma (DFSS), which seeks to reduce manufacturing defects and variations by ensuring a part manufacturing capability greater than 4.5 sigma
The Design For Testability (DFT), which aims to make it easier to test products in production. It is often included in the design for manufacturing
The Design For Maintainability (DFM), planned for the design of manufacturing equipment and seeking to allow easier, less costly maintenance that can be carried out without production stoppage. The acronym might be confusing since it is the same than Design for Manufacturing.
Are you among the best?
Discover Wevalgo's R&D and Engineering assessments
Discrete product R&D or Engineering
Scientific R&D (physico-chemical, natural or material processing industries: chemistry, life sciences, metallurgy, agri-food...)
Stay Informed
When you subscribe to the blog, we will send you an e-mail when there are new updates on the site so you wouldn't miss them.
Comments
No comments made yet. Be the first to submit a comment