What is Operational Excellence? Detailed 100 criteria model
Operational Excellence is essential because 67% of well-formulated strategies fail due to poor execution
Study published in 2017 in the "Harvard Business Review"
What is Operational Excellence?
Operational Excellence is the perfect execution of your business strategy. Or rather, performing more consistently, more reliably and more smoothly than your competition.
It is a continuous quest for improvement and optimization of the company so that it is always better for its customers, its employees, its shareholders but also for its ecosystem (suppliers, partners.. ), for the environment, for society.


Why is Operational Excellence important?
Operational excellence is essential for several reasons:
Performance improvement: by continuously optimizing processes and systems.

Increased competitiveness: by reducing costs and improving the quality of products or services.

Customer Satisfaction: by better meeting customer expectations.

Strategy Execution: by effectively implementing business strategy and avoiding failures due to poor execution.

Adaptability : through continuous learning

Employee engagement: valuing their contribution to the success of the company.
The main levers of Operational Excellence
The field of Operational Excellence is very vast since it covers all areas of the company. This is why we have developed an Operational Excellence model. It structures the Operational Excellence levers into six pillars in order to facilitate their understanding.
Operational Excellence Model
The model is structured in 6 pillars:
Strategy
Processes
Performance management
Progress
The organization
Employee engagement.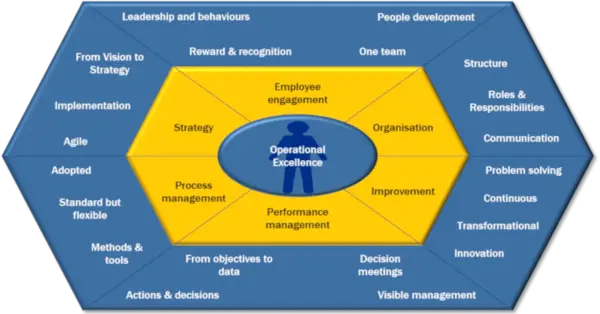 A human model above all
We believe that Operational Excellence is nothing if it is not human-centric. It should not be centered on the processes, nor on the organization, nor on the performance indicators, even if each of these elements is important.
An organization may have the best processes and systems in place but it will all be next to useless if the "organism" is not alive. If everything isn't connected and actually used by the humans in the organization, Operational Excellence isn't just hard; it is impossible.
For this reason, we think of the Operational Excellence model as a human body. The strategy is his eyes, indicating where to go. Individuals and Corporate Leadership are the heart, energizing the whole body. The management system is the brain and nervous system, making decisions and transmitting information.
The organization itself is the skeleton, giving a solid and coherent structure; the processes and methods are the arms, doing the necessary work. Finally, improvement and innovation are the legs, which allow you to move forward and progress.
Operational Excellence Levers by pillar


1. Strategy
While Operational Excellence is about the "execution" of strategy, part of the area of strategy is included in Operational Excellence. Not the content of the strategy, but the VIMOSA elements (Vision, Mission, Objectives, Strategies, Actions) that facilitate the deployment of the strategy.
Indeed, the way in which it is defined, communicated and declined in the company as well as the way in which it evolves have a considerable influence on the effectiveness of the strategy. This translates into the following Excellence criteria:
Clear definitions of vision and mission backed by a clear and robust strategy.

Strategic objectives with the right level of ambition, cascaded through a participatory process
Each employee understanding the strategy and their role in the strategy.
An agile strategy capable of adapting to environmental changes.
2. Process management
Optimal processes are key elements of Operational Excellence. Here is a summary of the Process Excellence criteria:
Very clear definition of processes: Key processes must be easily understandable and up-to-date, described in detail (SIPOC) down to operational level (and supported by standard models), and including decision criteria and climbing.
Measured performance: The performance of key processes should be regularly assessed.
80/20 of cases: Processes should be able to handle approximately 80% of possible situations.
Standard and at the same time adapted: The processes must be adapted to specific situations without having to manage all the cases, but 80%. In large organizations, they should be standardized for similar units, ...without impairing their ability to be adapted.
High-performance tools in the right place: Critical processes must be supported by high-performance tools.
Adopted: Staff adoption is essential, not only for processes to be used but also to be improved as their usefulness is then felt.
3. Performance Management
The third pillar of Operational Excellence is
performance management
. It is essential because it is the "brain" of Operational Excellence. There are six types of levers:
Objectives and indicators: They must be in line with the strategic objectives, limited in number, balanced (via Balanced Scorecard) and SMART. Proactive goals should complement outcome goals. Each objective must correspond to the responsibilities of the teams and be managed by following an indicator.

Dashboards: These tools should bring together all the objectives, performance indicators and main actions in a concise, current and visual way. They should be regularly updated and shared with all team members.

Data Collection and Reporting: Data collection should be automated as much as possible, with clearly defined processes for data collection, consolidation and dissemination.

Steering meetings: Regular and planned meetings are essential for the performance of the company. These meetings should focus on validating prepared solutions rather than discussing problems. They must respect the rules of meeting efficiency and be structured around the review of performance gaps displayed on the dashboard. They need to be coordinated and streamlined at enterprise level.

Decisions and Actions: Meetings should result in clearly defined actions, which are prioritized, tracked to completion, and transparently communicated.

Visible and visual management: Managers should adopt regular routines to interact with their teams and solve problems quickly. In addition, the objectives, performance indicators and actions should be communicated visually.
4. Progress: Improvement and Innovation
The "
Progress
" pillar ensures that the organization really improves and improves than that of its competitors. It includes problem solving, continuous improvement best practices, transformational improvement, innovation and knowledge sharing system.
Continuous improvement: Continuous improvement must be a common practice and integrated into the daily work of all teams. Nevertheless, it must be clearly aligned with the objectives of the organization (with validation by management of significant actions), and supported by identified and trained resources. It should not only aim to solve existing problems but also to improve areas that are already working well.
Problem solving: problem solving should emphasize teamwork and be based on rigorous approaches such as the Ishikawa diagram, the 5 Whys, or the QQOQCCP. Managers and certain key people should be trained in these methods, to promote their importance, lead by example or lead sessions.
Innovation and knowledge sharing: Leadership must promote a culture of innovation and knowledge sharing. External and internal ideas must be actively sought through regular benchmarks and internal innovation exchange events. Innovation and knowledge sharing must be supported by a network of human skills and the use of appropriate technological tools.
5. Organization
The organization is a very structuring element and visible to employees and must therefore be defined with care. For it to function effectively, it must not only be a structure, but "living". The "
Organization
" pillar includes three types of levers adults:
Organizational structure. It should not only support strategy, but also be adaptable to environmental changes without unduly disrupting employees. For this she must

Be aligned with the overall strategy
Be flat enough to foster innovation and adaptability
But not too flat to avoid great managerial complexity and prevent demotivation due to a lack of vertical promotion

Clarity of roles and responsibilities: this is crucial to avoid conflicts and operational inefficiencies. Use of an updated RACI model is recommended for key processes, aligned with job descriptions that reflect current employee roles
Communication: It is part of the organization in the sense that it breaks down "organizational barriers". Top-down, bottom-up and cross-functional communications should be organized to ensure a consistent and efficient flow of information supported by formal and detailed communication plans.
6. Employee Engagement
The
employee engagement
is the final pillar of our employee engagement model. Operational effectiveness. But this is the most important, because without motivation and commitment from men and women, any process or system, no matter how perfect, will be underutilized and ineffective. The major levers of employee engagement:
Leadership and Behaviors: Leadership is essential to achieving excellence and should be developed by focusing on the skills essential to business success. Shared values must be clearly defined, communicated and integrated into daily activities. The culture of learning should be encouraged, including the acceptance of mistakes.
Staff development: Staff development should be both standardized and personalized, managed by human resources in collaboration with managers. A structured and relevant training program must be put in place, in alignment with the company's strategy. A mentoring program should be instituted to improve employee performance.
Reward and Recognition: The reward system should be aligned with business strategy. A formal and transparent evaluation process should be established, with regular evaluations based on clear objectives. Rewards, including salaries and promotions, should be aligned with ratings. Managers need to be trained to give regular feedback and to celebrate success
A team: Each person should feel part of a team and a company that is the best place to work. Teamwork must be encouraged by various actions such as the sharing of objectives, cross-functional teamwork or the use of collaborative tools. Leadership listening to employees is preferred to internal staff surveys which should be business focused, not too frequent, and actually used to drive action. Finally, diversity management must be aligned with the company's strategic objectives and requires cultural training.
Main tools and methods
There are a large number of tools or methods that allow the improvement of Operational Excellence. It will be a question of using those which are most adapted to the context of the company (areas to be improved, culture, experience of methods, etc.). Here is a non-exhaustive list:
Lean Manufacturing/Lean Management : These methods aim to eliminate waste in all processes and maximize value for the customer. Common tools used in Lean include Kaizen (continuous improvement), 5S (for workspace organization), Kanban (for workflow management), and cause and effect diagram (also called Ishikawa diagram or fishbone diagram).

Six Sigma: It is a structured method focused on reducing variability in the processes and the elimination of defects. Key Six Sigma tools include DMAIC (Define, Measure, Analyze, Improve, Control) and DMADV (Define, Measure, Analyze, Design, Verify).

Total Quality Management (TQM): TQM focuses on the continuous improvement of product and process quality. It involves the use of tools such as Pareto charts, histograms, and control charts.

Theory of Constraints (TOC): It is a methodology that focuses on identifying and managing the constraints that hinder the performance of an organization.

Business Process Reengineering (BPR): This is an approach that aims to radically rethink and redesign business processes to achieve meaningful improvements.

Balanced Scorecard: It is a performance management framework that balances financial and non-financial indicators.

Agile methodology: Initially used in software development, Agile focuses on continuous delivery of value, adaptability and collaboration.

Project Management: There are several project management methodologies, including PRINCE2, PMP, and Scrum, which provide frameworks for planning and executing projects.
To go further in excellence...

Wevalgo's ambition is to make concrete a field as vast as Operational Excellence

It is also to allow you to truly measure the level of Operational Excellence of companies. Our unique Operational Excellence model has 100 very concrete practices that you can see by pillar.
Over to you now!
Evaluate your level of Operational Excellence (or that of your client if you are a consultant) using the evaluation tools of Wevalgo.
10-minute assessment of Operational Excellence in five stages of maturity
In-depth "Operational Excellence in 100 criteria" assessment"
Book your 30 minute slot
Free
Experts, Consultants, Managers, you want to know more about Wevalgo's Level of Excellence assessments
Stay Informed
When you subscribe to the blog, we will send you an e-mail when there are new updates on the site so you wouldn't miss them.
Comments 1 Very interesting model.

I really like the way it has been laid out.

Thanks for posting publicly.
Very interesting model. I really like the way it has been laid out. Thanks for posting publicly.