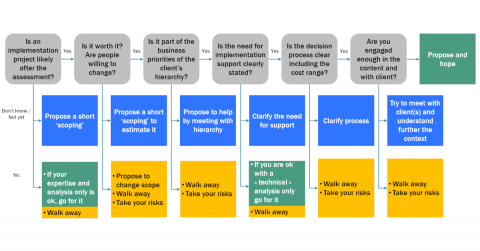 In the modern business world, the importance of performing the right operational excellence assessment at exactly the right time in an organisation's life cannot be overstated enough. Oftentimes, these assessments come out of a need to obtain an in-depth, unbiased overview of a business' current capabilities. This usually comes about after managers identify certain operational issues that need to be addressed. Only by gaining the clearest possible picture of where you stand will you have a chance to identify what isn't working and, hopefully, what steps need to be taken to adequately correct those issues.
Recently, we took a deep dive into the process of deciding and preparing for the right operational excellence assessment from the point of view of business managers. That process involved five steps that began by looking at the likelihood that an implementation project would be necessary after analysis, and gave those professionals a chance to consider the "bigger picture" in the context of the scope of their work, the hierarchy of business priorities, and more.
In this document, we'll look at the exact same process but from a slightly different point of view: that of the consultant. Quickly, you will begin to realize that there is a lot of overlap in these two positions. However, there's also a lot that is different and, because of that, this is all more than worth exploring through a similar-yet-separate lens.
Whether you're an internal or external consultant, you've been contacted by a manager with the specific task of performing an operational excellence analysis. In order to effectively do that, you need to be able to quickly identify the right analysis to perform depending on the situation. No two organisations are created equally in the first place, to say nothing of how truly different a lot of the challenges you'll be faced with solving will often be.
Likewise, you're also a business professional - which means that you need to be able to maximize your chances of winning the bid to begin the type of relationship that will hopefully serve you both well for years to come. This, too, will depend on several criteria and things get especially tricky if there is a need for an improvement action plan after the diagnosis. You cannot craft the right sales pitch if you don't know exactly what it is that you're selling, after all.
Remember that when the type and complexity of certain issues can no longer be solved with a standard managerial approach, you're entering into a completely different situation that is as fluid as it is complex. The solution a manager seeks may be something straightforward like a "change management" approach, or it could require a complicated transformative solution at the other end of the spectrum. That's a large part of what you've been engaged to find out, but the only way you'll be able to do that is if you choose the right operational excellence assessment in the first place.