Highlights
The evaluation consist of two parts 
Organisation Governance drivers: evaluation of about 60 practices structured in 6 categories and 16 areas, enabling to identify strengths and improvement opportunities in a detailed and a consolidated view. Assesment is based on best practices so you can benchmark your performance with top performers
Organisation Governance style: questions to evaluate the style of your Governance
The Organisation Governance drivers model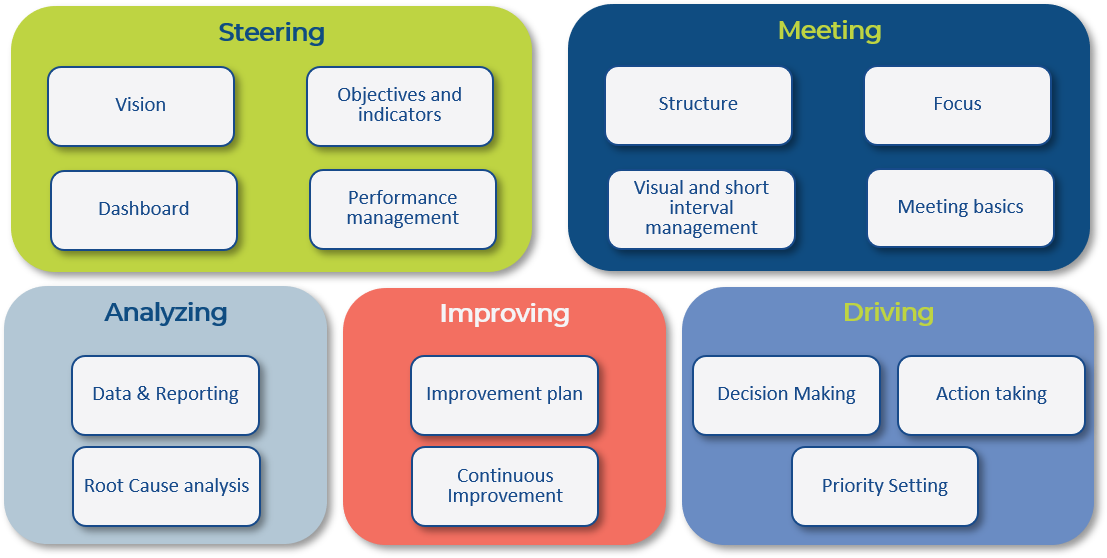 The model includes best practices on the following elements:
Steering – including Vision, objective setting, KPI's and general performance management; mainly the PDCA 'Plan'
Driving – including action taking, decision making and priorities setting; mainly the PDCA 'Do'
Analysing – including Data reporting and Root cause analysis; mainly the PDCA 'Check'
Improving - including improvement and continuous development; mainly the PDCA 'Act'
Meeting – including management meeting structure, focus and context
Environment – which look at managerial environment and feedback loops
For each best practice, the question is very precise and the answers choices are almost systematically normed to facilitate the evaluation and mostly to avoid subjectivity
For example, some evaluations use a norm derived from CMMI; for others we have defined specific norms.
According to the practices, evaluation criteria used are, for example:
formalisation and detailed level,
quality and scope coverage,
people ownership and effective usage level,
roles and responsibilities clarity.
The Organisation Governance style model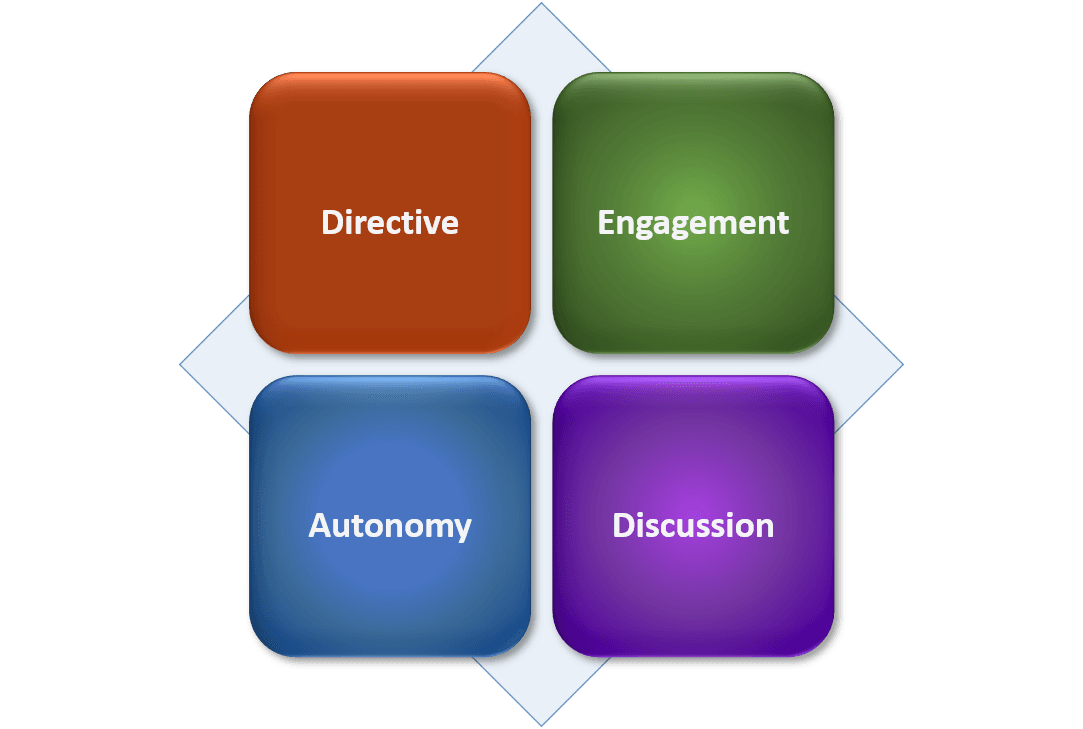 The Governance style looks at what is the governance main style among four dimensions:
Engagement: a balanced style, top-down, bottom-up and horizontal
Discussion: mainly bottom up and horizontal style
Autonomy: scarce communication and engagement between the top management and the operational teams
Directive: mainly top-down style
Our model assesses the governance style in four main areas related to Governance and performance management:
Communication: how are the general communication and the interaction between the management and operational teams performed?
Performance and improvement: how are the improvement initiatives or projects driven? How are the KPIs and the management reports managed? 
Management meetings: how are they managed and coordinated?