Wevalgo model for Project Engineering in 'single' client product delivery

A model built on practical experience of best practices
This model is built on the extensive management consulting experience of international Project Engineering functions; each of its best practice has been observed in real conditions


More than 110 best Project engineering practices in a structured model
This comprehensive model is structured in five categories and twenty one areas, each area includes 5 – 7 detailed best practices; this structure enables to identify strengths and improvement opportunities at different levels, from a high level and holistic view to a detailed view Best practices are tested for the whole RDE scope for two main dimensions:
a functional dimension: how are the Project Engineering functions or departments managed,
a project dimension: how are the individual projects managed.
The entire lifecycle of project engineering is covered, both from a company point of view (strategy, organisation, performance management) and a project point of view (customer management and operations management).


Normative questions
For each best practice, the question is very precise and the answers choices are almost systematically normed to facilitate the evaluation and mostly to avoid subjectivity
For example, some evaluations use a norm derived from CMMI; for others we have defined specific norms.
According to the practices, evaluation criteria used are, for example:
formalisation and detailed level,
quality and scope coverage,
people ownership and effective usage level,
roles and responsibilities clarity.
« Lean engineering» Evaluation
Our whole model fully embeds the Lean principles; we have adapted the manufacturing Lean principles to Lean Engineering as illustrated below
Even if « Lean engineering» is almost everywhere in our model, the most simple and practical practices are tagged so that the result report displays how this First Level of Lean is implemented.
| Lean waste | Our adaptation to Engineering |
| --- | --- |
| Defects | Misunderstood or unclear requirements, innefective design reviews, poor usage of technical processes or development stage-gates |
| Overproduction | Unnecessary requirements or design features, lack of standards, misalignment between new technologies and product or project requirements |
| Transportation | Unnecessary movement of people or information: inappropriate engineers location, project handovers |
| Waiting | Waiting for decision, ineffective planning |
| Inventory | Activities or expensive materials orders performed too much ahead due to ineffective plannings or resource allocation |
| Motion | Unnecessary activities to perform work: informal, unstructured, not integrated or duplicated data; unfit supporting tools |
| Over processing | Unnecessary validations, complex design or tests, too many reports |
| Skills & "brain waste" | Poor competence management and allocation, lack of training, lack of learning loops |
Wevalgo organisation model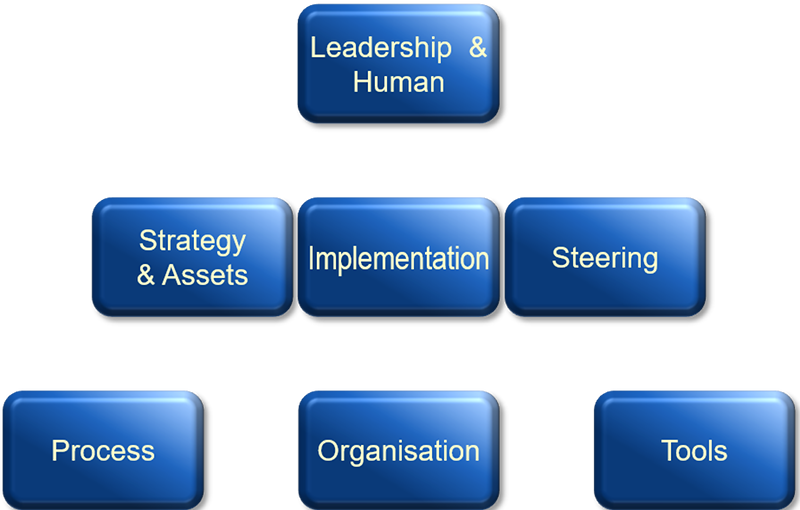 In the detailed results report each practice is linked to one of the Organisation model dimension so that the improvement drivers are also defined along these dimensions.
That enables to have even clearer and more actionable drivers to facilitate the improvement action plan definition.
The dimensions are:
Leadership & People: leadership capabilities, competences, social climate and value,
Strategy & assets: organisation strategy, technology, tangible and intangible assets,
Organisation: organisational structure, roles and responsibilities,
Steering: decision making, actions and performance indicators management,
Process: process, operating procedures and rules definition,
Tools: decision making tools, process support tools, software applications,
Implementation: effective implementation of strategy, organisation, steering, processes and tools,
Une fois les évaluations terminées, les rapports de résultats sont instantanément accessibles.
L'évaluation fournit une analyse sur plusieurs axes qui peuvent être vus et explorés avec une profondeur et des dimensions variées grâce à un menu de résultat convivial. Quelques exemples de résultats sont affichés ci-dessous
Pyramide des résultats
Vous pouvez voir instantanément les performances sur toutes les catégories et sous-catégories de leviers de performance

Résultats par dimension organisationnelle
Comparez les performances de différents domaines de votre propre organisation, tels que les zones géographiques, les départements, les niveaux hiérarchiques ou toute autre dimension que vous jugez utile (entièrement personnalisable).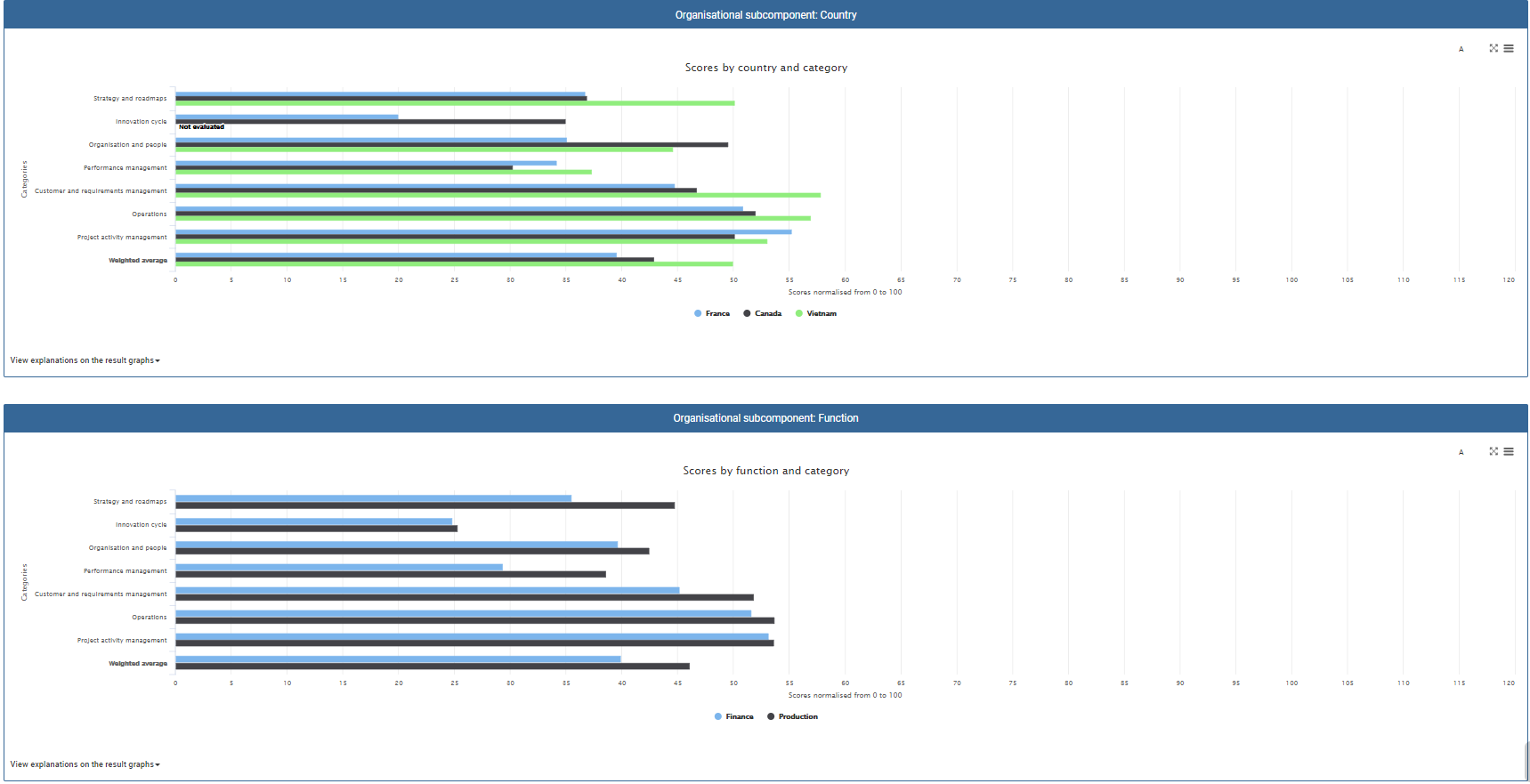 Résultats par évaluateur et par catégorie
Vous pouvez voir des résultats détaillés pour mieux comprendre les causes des performances de votre entreprise.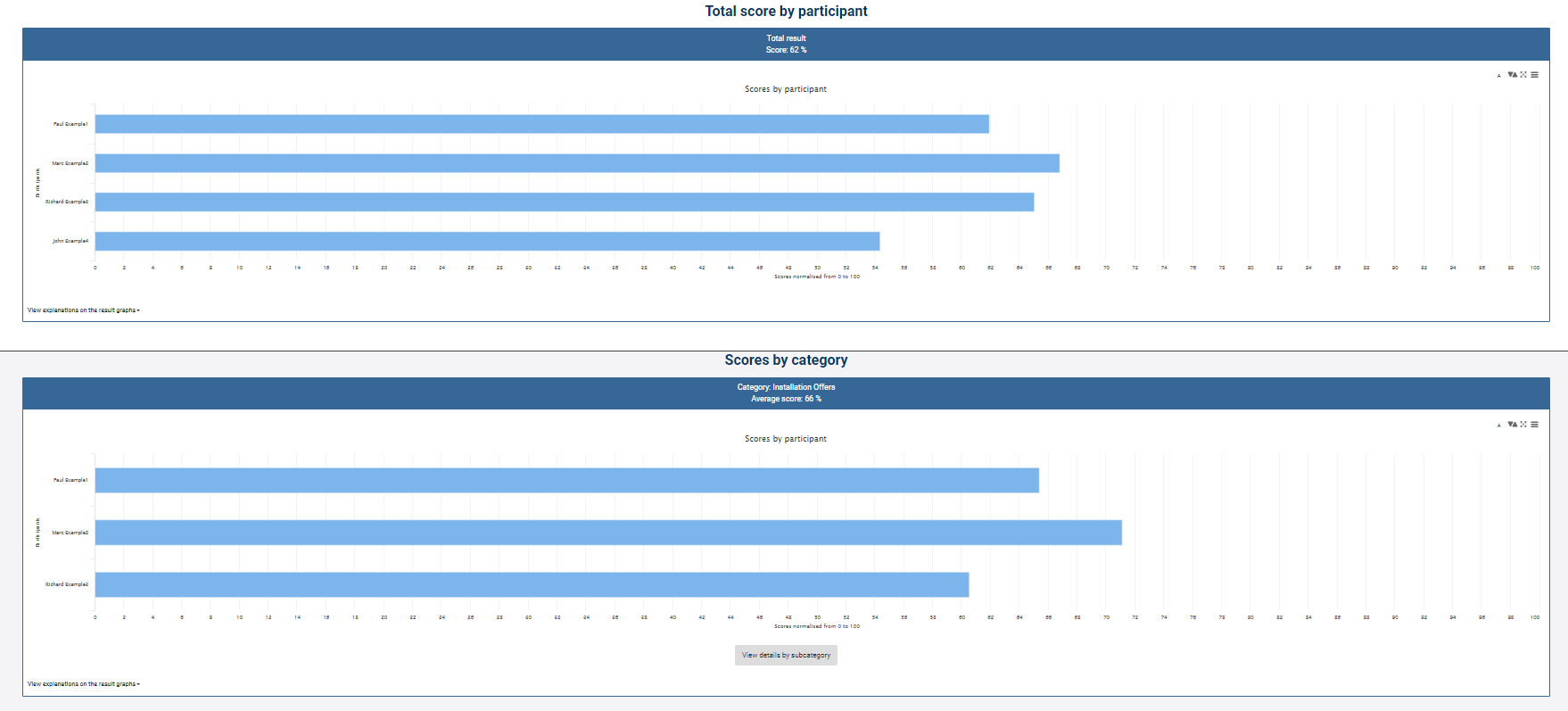 Résultats dans le modèle Wevalgo Excellence
Ces résultats permettent d'identifier les causes racines de la performance par type «d'action d'amélioration» grâce à un modèle conçu pour faciliter la définition des actions.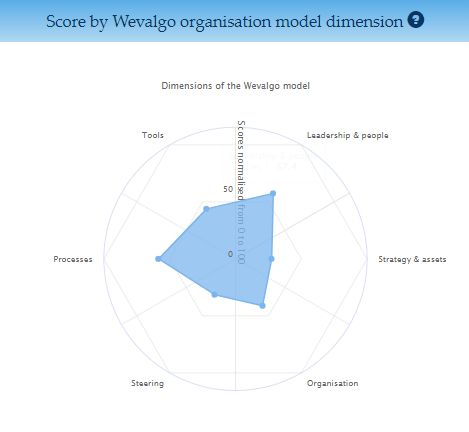 Nous avons des consultants experts pour élaborer leurs propres évaluations, vous aider et interpréter vos résultats. Sélectionnez l'option Revue d'expert dans le menu d'achat.